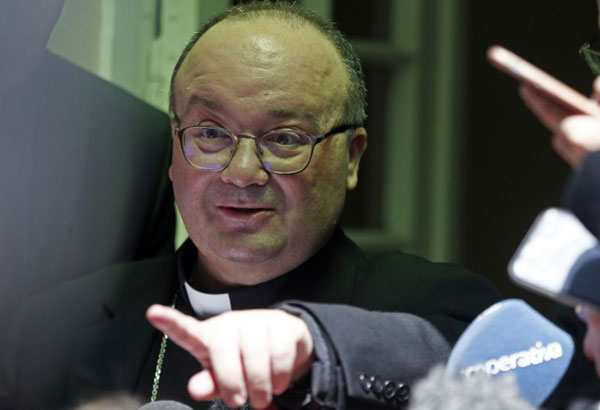 Archbishop Charles Scicluna points during a press conference prior to a meeting with people who claim to have been victims of sexual abuse by members of the Church, in Santiago, Chile, Tuesday, February 20, 2018. Scicluna, arrived in Chile on Monday, sent by the Pope Francis, to gather testimonies accusing the Archbishop of Osorno of covering up sexual abuses committed by priest Fernando Karadima. (AP Photo/Luis Hidalgo)
Vatican sex abuse investigator hospitalized in Chile
(Associated Press) - February 22, 2018 - 12:00am
SANTIAGO — The special envoy sent by Pope Francis to investigate allegations that sex abuse was covered up has been hospitalized in Chile.

Catholic bishop's conference spokesman Jaime Coiro says the problems affecting Charles Scicluna aren't extremely serious, "but neither are we dealing with a very simple ailment." He didn't give details.

The Maltese bishop on Tuesday began meeting victims and others opposed to the appointment of a bishop accused of covering up for the country's most notorious pedophile priest.

Coiro says the pope has asked that interviews with witnesses continue yesterday through Friday as planned. A Spanish priest who is assisting Scicluna will take part.