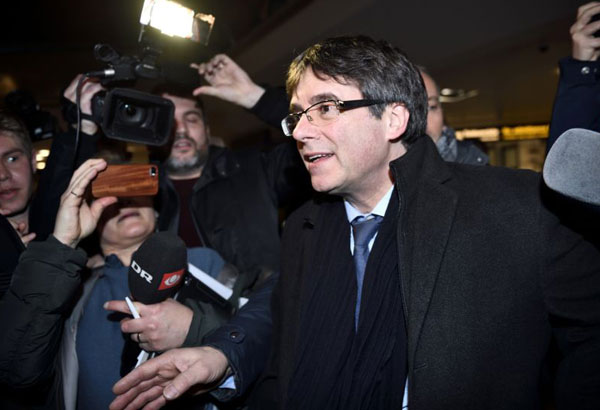 Ousted Catalan leader Carles Puigdemont, left, arrives in Copenhagen on Monday, Jan. 22, 2018. The fugitive former leader of Catalonia has arrived in Denmark, despite threats from Spain to seek his immediate arrest there. Puigdemont is being investigated by Spain over a unilateral declaration of independence by Catalonia's parliament on Oct. 27. (Tariq Mikkel Khan/Ritzau Scanpix via AP)
Fugitive Puigdemont in Denmark, no Spanish warrant issued
(Associated Press) - January 23, 2018 - 2:20am
COPENHAGEN — A Spanish judge on yesterday refused to ask Danish authorities to arrest ousted Catalan leader Carles Puigdemont, who is in Copenhagen to attend a university debate and meet with some lawmakers.

Supreme Court Judge Pablo Llarena rejected the country's prosecutor's petition to issue a European arrest warrant, saying that Puigdemont was seeking to "provoke his arrest overseas."

Puigdemont's trip came nearly three months after he fled to Belgium, dodging a Spanish investigation after the Catalan parliament's secession declaration on Oct. 27.

Shortly after his arrival in Denmark, Catalonia's parliamentary speaker proposed him as candidate to form a new government, despite his status as a fugitive.

Llarena said that, with the trip to Denmark and the risk of arrest that that brought, Puigdemont as seeking to blame on Spain his absence from the Catalan parliament vote where a new regional leader needs to be elected.

"Facing the legal impossibility to be elected without being present at the Parliament, provoking his arrest overseas seeks to equip him with a justification that his absence is not a free decision as a fugitive, but the consequence of a situation that has been imposed on him," wrote the judge in his decision rejecting the prosecutor's request to re-activate a European arrest warrant for Puigdemont.

Spanish courts initially sought Puigdemont's extradition from Belgium but canceled that petition amid concerns that Belgium might send him back but restrict the crimes with which he could be charged.

The push for independence by the Catalan government, while Puigdemont was regional president, triggered Spain's most serious political crisis in decades. Spain ousted Puigdemont's Cabinet, dissolved the regional parliament and called the December regional elections as part of special powers invoked following the independence declaration.

He and his 13 former Cabinet members face possible charges of rebellion, sedition and embezzlement, which carry jail sentences of up to 30 years under Spanish law.

Despite Puigdemont's legal situation, Catalan parliamentary speaker Roger Torrent said yesterday that the former president was the only candidate with enough backing to attempt a new government following the election last month.

Torrent said that he has written to Spanish Prime Minister Mariano Rajoy to request a meeting to talk about the "abnormal situation" in Catalonia.

But a government official close to Rajoy who requested anonymity due to the sensitivity of the issue said that the central government had no intention of discussing judicial affairs with the Catalan speaker.

Spanish Foreign Minister Alfonso Dastis had said the issue of how to proceed with Puigdemont was for judges, and not the government, to decide.

"Mr. Puigdemont is subject to a process in Spain. Outside, for the moment, his movements are free within the European Union, but we'll see," Dastis said earlier on yesterday in Brussels.

Puigdemont faces immediate arrest if he returns to Spain and, if he remains abroad, central authorities in Madrid say they will block any attempt he might make to be Catalonia's president.

Rajoy has even threatened to maintain special constitutional powers to keep direct control of the region, a move that his government sought after the Oct. 27 unilateral independence declaration by a slim majority of Catalan separatist lawmakers.

Puigdemont was taking part in a debate at the University of Copenhagen on yesterday. On Tuesday, he has been invited to the Danish Parliament by a Faeroese lawmaker, although leading members of the government and opposition have declined to meet with him.