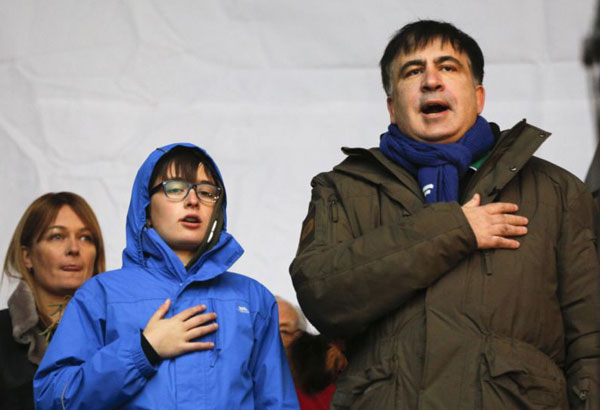 Former Georgian President and former Ukrainian official, Mikheil Saakashvili, right, his son Nikoloz, center, and wife Sandra Roelofs, left, as they sing the Ukrainian national anthem during the rally calling for Ukraine's President Poroshenko to resign, in central Kiev, Ukraine, Sunday, Dec. 17, 2017. (AP Photo/Efrem Lukatsky)
Saakashvili's supporters rally in Ukrainian capital
(Associated Press) - December 17, 2017 - 11:02pm
KIEV — Mikheil Saakashvili, the former Georgian president turned opposition leader in Ukraine, has joined about 5,000 supporters at a rally in the Ukrainian capital to push for the ouster of the nation's president.

Saakashvili's followers marched across Kiev and then rallied with him on Independence Square, calling for President Petro Poroshenko to be impeached.

The demonstrators attempted to seize a public building facing the square, shattering windows and trying to break the doors open, but police prevented them from getting inside.

Saakashvili served as governor of Ukraine's Odessa region and then quit the post, accusing Poroshenko of blocking his anti-corruption efforts.

He was briefly detained this month on allegations that he colluded with Ukrainian businessmen tied to Russia to topple Poroshenko. He denies the allegations and a court released him.