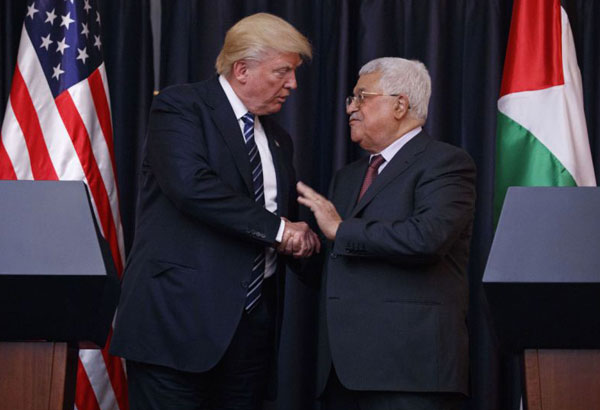 FILE - In this May 23, 2017 file photo, President Donald Trump shakes hands with Palestinian President Mahmoud Abbas after making statements to the press in the West Bank City of Bethlehem. Has the Palestinian strategy of reaching statehood through negotiations with Israel finally reached a dead end after more than two decades of failures? It's an increasing relevant question these days, amid mounting signs that a "two-state solution" to the Israeli-Palestinian conflict may no longer be possible. (AP Photo/Evan Vucci, File)
More Palestinians seek Abbas resignation; skeptical of Trump
(Associated Press) - September 19, 2017 - 10:29pm
RAMALLAH — A poll indicates that 67 percent of Palestinians demand the resignation of President Mahmoud Abbas, up 5 points from June, and that three-quarters believe the Trump administration isn't serious about an Israel-Palestinian peace deal.

The survey among 1,270 Palestinians was published yesterday, a day ahead of a Trump-Abbas meeting on the sidelines of the UN General Assembly. The Palestinian Center for Policy and Survey Research poll had an error margin of 3 percentage points.

President Donald Trump said this week that his administration is "working very hard" toward a deal, but hasn't publicly supported establishing a Palestinian state alongside Israel or offered another path forward.

yesterday's poll says 52 percent of Palestinians still support a two-state solution, but 57 percent say it's no longer feasible because of Israeli settlement expansion.