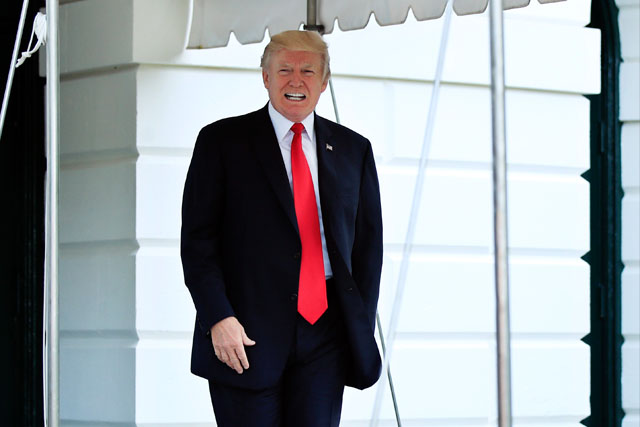 President Donald Trump, leaves the White House in Washington, Saturday, July 22, 2017, for a trip to Norfolk, Va., to participate in the commissioning ceremony for the nuclear-powered aircraft carrier USS Gerald R. Ford. AP /Manuel Balce Ceneta
Trump asserts pardon power in morning tweets
WASHINGTON — The Latest on President Donald Trump and his tweet barrage (all times local):
8:40 p.m.
In a barrage of tweets early Saturday, President Donald Trump said he has "complete power" to issue pardons, defended his son in connection with the Russia investigations and took a swipe at Democratic campaign opponent Hillary Clinton.
It was part of a series of messages he posted from his Twitter account starting at daybreak.
It wasn't the first time the president has sent a rapid-fire series of tweets in a short time span to vent about things bothering him.
___
5:30 p.m.
President Donald Trump woke up early Saturday morning with a lot on his mind, if you read his Twitter feed.
He sent out tweets on a variety of subjects — the Russia investigation, Hillary Clinton, son Don Jr. and health care.
And there was more — the commissioning of the USS Gerald Ford, an Islamic State terrorist who may be dead, his attorney general and his new White House communications aide.
The tweets were unusual in their scope, even for Trump.
___
4:26 p.m.
President Donald Trump remains furious over multiple investigations into Russian meddling in the 2016 presidential election.
That subject is prominent among several others the president addressed in nearly a dozen tweets early Saturday morning.
Trump writes that people are asking why what he calls "crimes" by election opponent Hillary Clinton and former FBI Director James Comey aren't being investigated.
___
10 a.m.
President Donald Trump says he has "complete power" to issue pardons, an assertion that comes amid investigations into Russian interference in last year's presidential election.
The subject of pardons is one of many topics that appears to have occupied the president's mind Saturday morning.
In an early morning flurry of 10 tweets, Trump commented about pardons, former presidential rival Hillary Clinton, son Don Jr., health care, the USS Gerald Ford, the attorney general and other issues.
Trump writes in one of his 10 messages: "While all agree the U. S. President has the complete power to pardon, why think of that when only crime so far is LEAKS against us. FAKE NEWS."
The Washington Post reports that Trump has inquired about his authority to pardon aides, relatives or even himself.