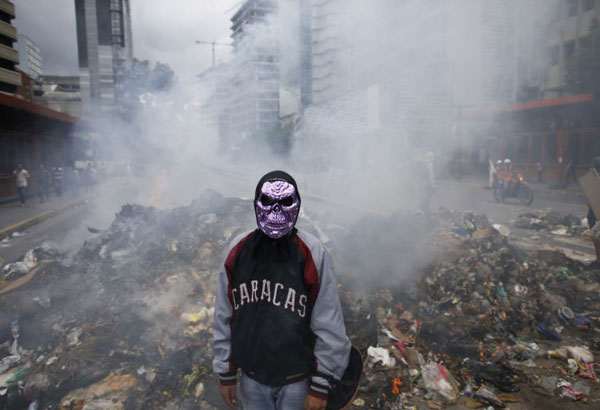 A masked demonstrator stands in front of a smoking pile of burning trash, used as a street barricade, during anti-government protests in Caracas, Venezuela, Thursday, June 29, 2017. Venezuela's renegade chief prosecutor charged the former head of the country's national guard Thursday with systemically violating human rights during three months of anti-government protests that have left nearly 80 people dead. (AP Photo/Ariana Cubillos)
Opposition decries detention of Venezuelan students in truck
(Associated Press) - June 30, 2017 - 9:00pm
CARACAS — Opposition leaders in Venezuela are denouncing the detention of more than a dozen student protesters who were loaded into the back of a truck as tear gas launched nearby drifted into the vehicle.

Student leader Daniel Ascanio says 29 students in Caracas were detained Thursday after participating in anti-government protests.

Videos of the incident shared on social media show students being led by police with their hands tied behind their backs into a truck with no windows.

It was not immediately clear if they are facing charges.

Ascanio says the some of the students have been able to speak with their relatives and are "physically well."

Three months of protests demanding new elections have left at least 77 people dead, hundreds injured and thousands detained.