Charity's vision for a blind-free Indonesia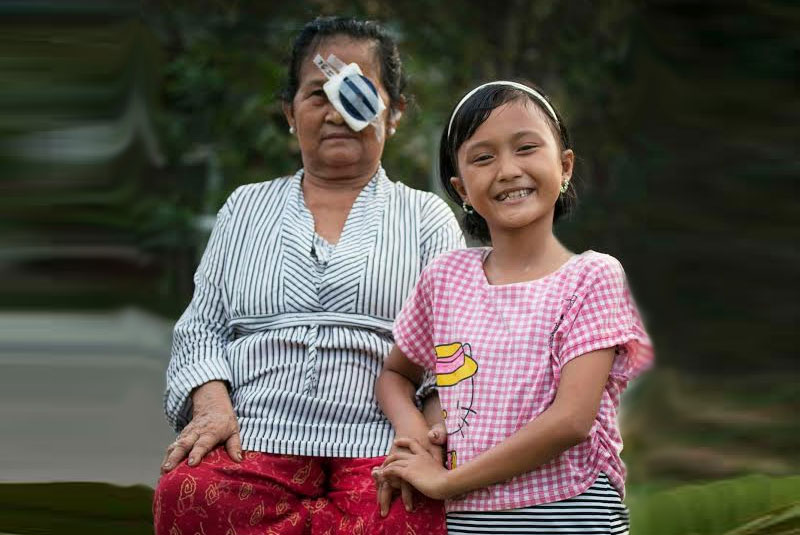 INDONESIA – Indonesian farmer Kasnan Wonidin thought his life was over when he began losing his eyesight to cataracts last year.
The 48-year-old from a farming village in Gresik regency in East Java not only had to give up his work, but also his favourite pastimes such as catching crabs and feeding goats.
"I couldn't ride the motorcycle and had to depend on people to take me out. Everything looked blurry, I couldn't even enjoy watching the television at home." he told The Straits Times.
Corrective surgery at five million rupiah (S$528) per eye was way beyond his means. Like millions of low-income cataract sufferers in the country of nearly 260 million people, he could only prepare to go blind.
He said: "I felt so sad. Where can a poor farmer like me find so much money?"
Indonesia has one of the highest rates of blindness in the world, with cataracts accounting for more than 50 per cent of the cases, according to the Health Ministry website.
Access to eyecare services especially in the rural areas is limited and a shortage of ophthalmologists means only 180,000 out of 250,000 Indonesians who require cataract operations every year actually get them, the website states.
Mr Kasnan's worry ended last May, when Singapore-based non-profit organisation A New Vision gave him a free small-incision cataract surgery, a quick surgical procedure that cut and replaced his cloudy natural lenses with clear intraocular ones. It costs the organisation S$100 per eye.
The procedure is the cheapest of three common techniques used by surgeons all over the world, but few local surgeons are trained to do it.
"The wound is small and no stitches needed so it's faster to heal and less prone to infection. The quality is comparable with the most expensive and advanced technique, but costs only a fraction," said one of the organisation's co-founders, Nepali humanitarian eye surgeon Dr Sanduk Ruit, 62. He is the founder and medical director of the Tilganga Institute of Ophthalmology in Kathmandu.
Set up in 2010 by four friends who wanted "to do something good for the less fortunate", A New Vision has so far performed nearly 20,000 surgeries for the rural poor in Java and Sumatra, according to co-founder Ms Effi Jono, 48, who is a trained accountant from Indonesia. The others are Singaporean entrepreneur and philanthropist Tan Ching Koon, and Indonesian social worker Dr Indra Wahidin.
After drawing 600 patients at the organisation's first mass surgical outreach in North Sumatra's capital of Medan seven years ago, they knew there was no turning back.
Recalled Ms Effi: ""We had never seen so many blind people in one location at a time. Some of the patients had been blind for more than 10 years."
An aghast Dr Ruit said then: "The severity of blindness in Indonesia now is the same as in Nepal 20 years ago! We have started the fire so we must continue".
Since then, A New Vision has held 20 large-scale drives, each drawing between 600 and 3,000 patients. Its volunteers coordinate with local healthcare workers and officials to identify people with cataract symptoms and ferry them from their countryside homes to the hospitals.
The organisation typically needs S$50,000 to serve 500 patients. Funds have flowed in from multinational companies, foundations and private donors. As of now, A New Vision will remain in Java and Sumatra where it has "barely scratched the surface", said Ms Effi.
The organisation has also sent local doctors and nurses to Nepal to upgrade their skills, from performing specialised eye surgeries to post-operative follow-up care. It is also raising funds to build a quality but affordable community eye centre in Indonesia.
One of A New Vision's strong supporters is its volunteer eye surgeon Dr Teguh Filbert Metaputra, 35, who has been providing free cataract surgeries to the poor in Gresik in his own time.
Dr Teguh's own mother had become blind in one eye as his family could not afford surgery fees for her retina ailment. "Doing this is a calling for me," he said.
"I just want to help, there's nothing to lose. Cataracts are curable with a simple surgery," he added.
Patients are only grateful the doctors are giving their time and skills to make a difference to their lives. Many who have regained their eyesight are "paying it forward".
For instance, fruit seller Slamet has been going door-to-door in his village in east Java to look for new patients since his own successful operation in 2013. In April, he packed 27 blind neighbours on the bus at 3am so they could undergo surgery.
"I know the joy of seeing again and I want to help others to see too. I have no money but I have the energy and enthusiasm to bring them here," he said.
For many cataract sufferers, the gift of sight means not just vision, but freedom and independence.
Mr Kasnan said the idea of surgery had spooked him, but took the chance anyway.
Lying on the operating table, he clenched his jaws and balled his fists to calm his nerves as Dr Teguh removed his cloudy cataract.
"It's actually painless," he said afterwards. Pointing to a patch over his left eye, he added: "One eye done, one more to go. I'm still scared but the fear of going blind is much stronger."
http://www.anewvision.org/