EDITORIAL - Replace the OICs
February 1, 2023 | 12:00am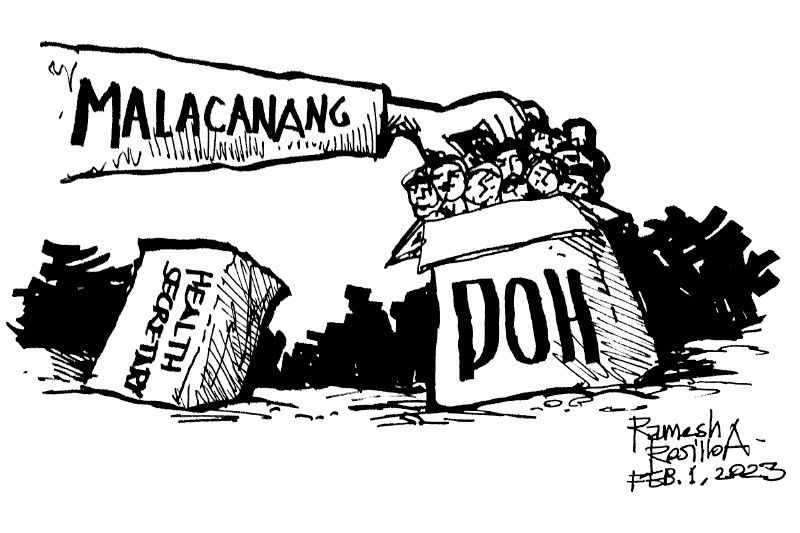 Speaking in an interview with the ABS-CBN News Channel, Department of Health officer-in-charge Maria Rosario Vergeire said she is willing to accept the post if it is offered to her.
"I am now ready to be appointed if and when that would be his decision," she said in part during the interview.
Vergeire, who has been doing a good job as OIC so far, has always been unassuming and reserved, never really gunning for the top Health position so openly. So this may seem like a bold move to many.
But it can also be seen another way; as a desperate call to President Ferdinand "Bongbong" Marcos Jr. to appoint someone, just about anyone, as long as it's a permanent Health secretary.
Whether it's Vergeire or not --and as long as it's not Francisco Duque again-- someone should already be permanently in charge of the Health department by now, a good seven months into this presidency.
We point out two reasons why a permanent Health secretary and not just an OIC is needed right now.
First is that the COVID-19 pandemic isn't really over yet. In fact the World Health Organization recently said the presence of the coronavirus was still an international emergency.
Second is that a health emergency can happen just about any time. Last January two years ago who would have thought that a sickness that originated in China would spread across the rest of the globe and shut down the world for the better part of the next two years?
It would be best of someone was in charge to deal with things who is fully authorized to give or carry out certain orders.
While this may not be directly related to Health concerns, along with a permanent Health secretary, President Marcos should already appoint someone to take his place as Agriculture secretary.
Health emergencies may only crop up every now and then but the Agriculture portfolio requires constant attention. When you think about it it's really more as if the president is acting as OIC Agriculture secretary more than anything else.