EDITORIAL - No agency beyond temptation?
December 9, 2022 | 12:00am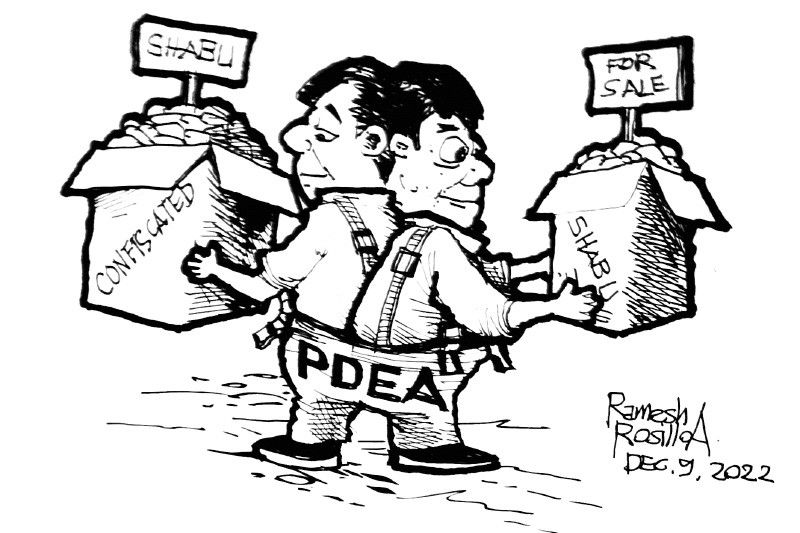 Agents of the Philippine Drug Enforcement Agency (PDEA) and policemen from the National Capital Region Police Office recently seized shabu worth P9.8 million during a buy-bust operation in Taguig last Tuesday. Nothing of much note there; operations involving millions in seized drugs are now common.
However, what made this operation different, scandalous even, was who was selling the shabu and where it was being sold from.
It was PDEA Southern District Office head Enrique Lucero, PDEA agents Anthony Vic Alabastro and Jaireh Llaguno, and their driver Mark Warren Mallo who were arrested for allegedly selling the drugs. And if the police are to be believed, they sold the drugs straight from their office.
"So this was how bold their illegal activities are. Can you imagine, the illegal drugs are being sold right in their office," PNP spokeswoman Police Colonel Jean Fajardo said.
Lucero, who must be presumed innocent until proven guilty, has yet to explain how he ended up in this mess. But from how we see it it doesn't look good for him at all.
Let's suppose that he is indeed guilty, now the questions begin to pile up. Where did those arrested source their drugs from? Did they resell drugs seized during their previous operations? Who else in PDEA Southern District Office is in cahoots with Lucero and company in this operation? More importantly, are there other PDEA office heads who are actually doing the same kind of "moonlighting"?
When those who are supposed to be going after drugs are actually enriching themselves by way of selling drugs it makes them no better than those that they go after.
It also makes it hard to determine who we can trust when it comes to dealing with drugs.
Policemen have been arrested for selling drugs or working for drug lords, but people have always thought PDEA was the exception, that they would never muddle their hands in it. But now it seems no agency is beyond the temptation of easy money that selling drugs offers.