EDITORIAL - Another bureau needing a total overhaul?
December 1, 2022 | 12:00am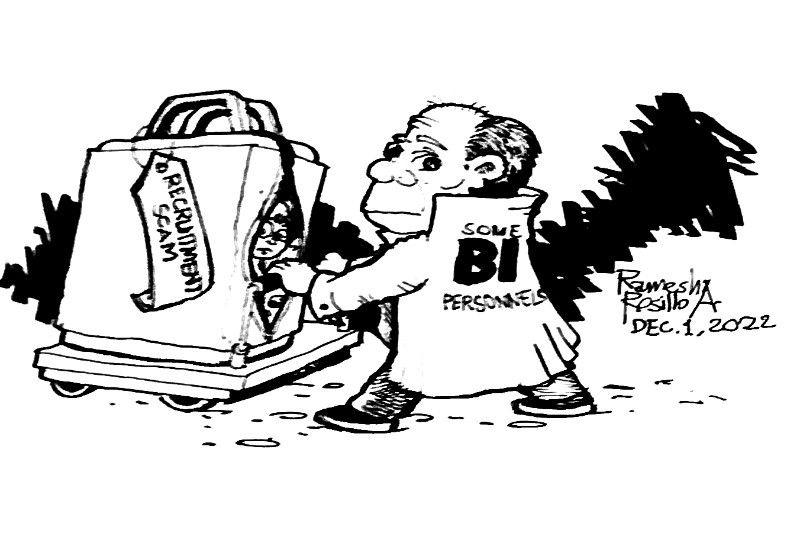 There seems to be another scandal involving the Bureau of Immigration (BI).
According to Sen. Risa Hontiveros, Filipinos are being lured abroad and tricked into working in a fraudulent "investment" business in Myanmar by a Chinese syndicate --with the help of some BI personnel.
According to one Filipina recruit presented before Tuesday's hearing of the Senate Committee on Women, Children, Family Relations and Gender Equality, people are being contacted on social media and promised jobs in a call center in Bangkok, Thailand. However, after leaving the country they are taken on a circuitous route that ultimately leads them not to Bangkok, but a "special economic zone" in Myanmar where they are forced to engage in scamming people into investing in cryptocurrency.
The recruit said many are not paid exactly what was promised, if they are paid at all. Others are threatened and beaten or even killed if they fail to come up with a quota of victims.
The role of these BI personnel? Facilitate the easy departure of such victims by breezing them through immigration. They even went as far as to provide fake names so they would not have reliable travel records.
"It seems that the Chinese Mafia syndicate is not the only one to blame here, although they are the main villain, there are also immigration employees involved. It's like Pastillas Part 2, but worse and more intense," Hontiveros said.
She is referring to the Pastillas scam where BI official allegedly allowed Chinese visitors easy entry into the country --no questions asked-- in exchange for bills rolled in a fashion similar to the sweet treat.
This latest story is just so incredible, so unbelievable. Partly because we don't want to believe that some government employees would willingly betray their own countrymen just for money and send them to be slaves or even to die in a foreign land.
We also don't want to believe it because it means such a wide and organized operation could not have gone on without the involvement of officials in higher places.
But we cannot easily dismiss the testimony of the witnesses brought before the hearing as well as of those recently rescued by the Department on Migrant Workers about the same operation.
The BI has promised it will investigate the matter. To be fair, immigration officials have yet to explain their full side of the story.
However, if it is as Hontiveros and the rescued victims claim, and that the BI is indeed involved in this, then it is a betrayal of the highest order.
It is supposed to be the BI that keeps people who should not get inside out and people who should go out in. If it can no longer do that then perhaps --like another government bureau rife with controversy-- it is also due for a total overhaul.