EDITORIAL - What are the odds?
October 6, 2022 | 12:00am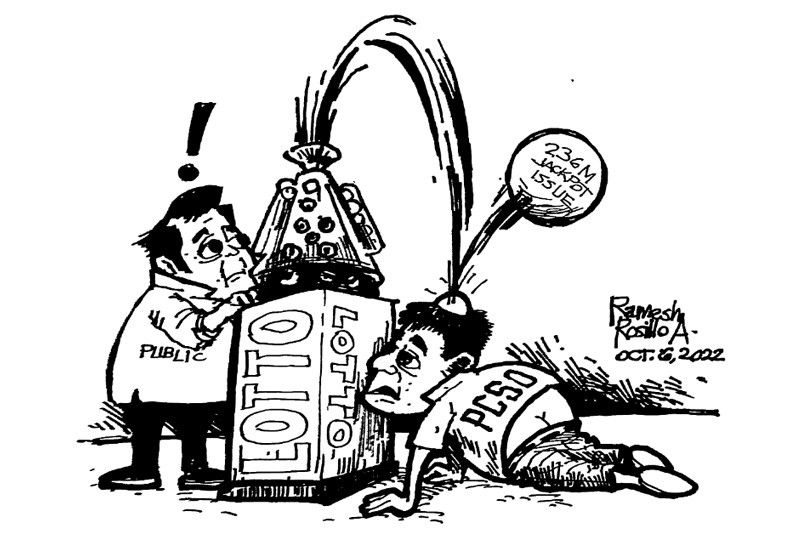 You have probably heard of what happened in numbers game betting recently; some lucky bettors won the P236-million jackpot of the Philippine Charity Sweepstakes Office Grand Lotto 6/55 last Saturday.
The problem is that there were 433 lucky bettors. So the pot will have to be divided among them and each will get around P545,000.
The PCSO said they detected no irregularities during that draw. In fact, PCSO General Manager Mel Robles insists it was just an odd stroke of luck.
"We have found nothing wrong. In fact, it's a natural occurrence na may mga nag-aalaga at maraming nananalo kapag tinamaan, so wala kaming nakikitang babaguhin doon and we're in fact we're pleased na marami ang nanalo, actually, lalo na at pasko," Robles said.
While over half a million pesos is nothing to sneeze at, what are the chances of 433 people placing the same winning numbers? We understand one or two or three, people having the same numbers and order out of the millions of possibilities considering the numbers from 1 to 55, or maybe even four or five people having the same numbers and order as very remote possibilities.
But 433 people having the same numbers?! That is downright impossible. We have yet to hear about 10 people having the same winning 6/55 combination, let alone over 40, 100, or over 400 people.
Talk is now rife about the results being fixed or something in the system going haywire and leading to the false identification of so many winners, but because so far no one seems to be looking into this bizarre occurrence, these will remain speculation.
As loathe as we are to say it, this warrants a Senate investigation. The PCSO isn't some small-time, fly-by-night numbers game operator with questionable methods not until now anyway. It's supposed to be the main fund-raising arm of the government for health and medical programs, and charities all over the country. It cannot afford to have its name sullied or its reputation tarnished.