EDITORIAL - A salute to unsung heroes
September 27, 2022 | 12:00am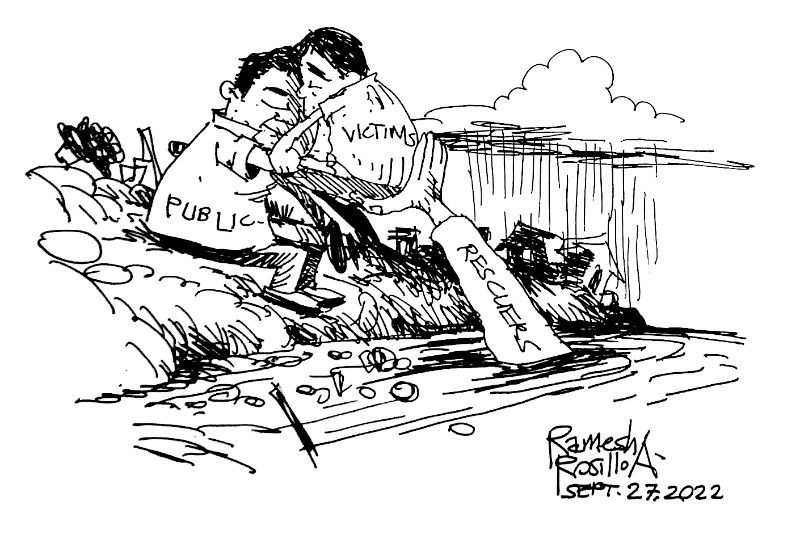 Most of the Philippines escaped the wrath of tropical depression Karding. In Central Luzon, however, it was a totally different story with the super typhoon bringing rains, strong winds, and flashfloods, leaving hundreds cut off from food, water, power, and placed in harm's way.
It was during efforts to save stranded survivors in Bulacan Province that five rescuers became victims themselves.
According to the Philippine News Agency, George Agustin, Narciso Calayag Jr., Troy Justin Agustin, Jerson Resurreccion, and Marby Bartolome, all members of the Bulacan Provincial Disaster Risk Reduction and Management Office, were found dead after being carried away by floodwaters in San Miguel town.
The five were Sitio Galas, Barangay Camias, in the said town, preparing lifeboats to conduct a search and rescue mission in nearby Barangay Tigpalas when raging floodwaters swept them away.
Their bodies were later found in Sitio Banga Banga, Barangay Camias.
When disasters strike --which they usually do in our unfortunately-situated country-- it's usually the disaster rescue personnel and volunteers who are first on the scene, risking their lives.
In some cases, especially among the poorer provinces and local government units, many of them are ill-supplied, ill-equipped, and have to rely more on wits, improvisation, and experience rather than on the gear or vehicles provided to them.
While it's the names and faces of politicians printed on cans of sardines and bags of rice and relief goods, or mentioned on TV as having gone somewhere to help in relief efforts, it is the names of faces of those in the thick of the danger that are often left out and forgotten.
Note that we are not pointing fingers at anyone for this tragedy, neither are we saying that politicians should not involve themselves in relief efforts, we are merely pointing out that those who risk the most in times like these should also not be forgotten.
May the efforts of these five brave men, as well as other men and women who risk it all to help others during times of calamity not go unnoticed or unrewarded.