EDITORIAL - Get it right this time around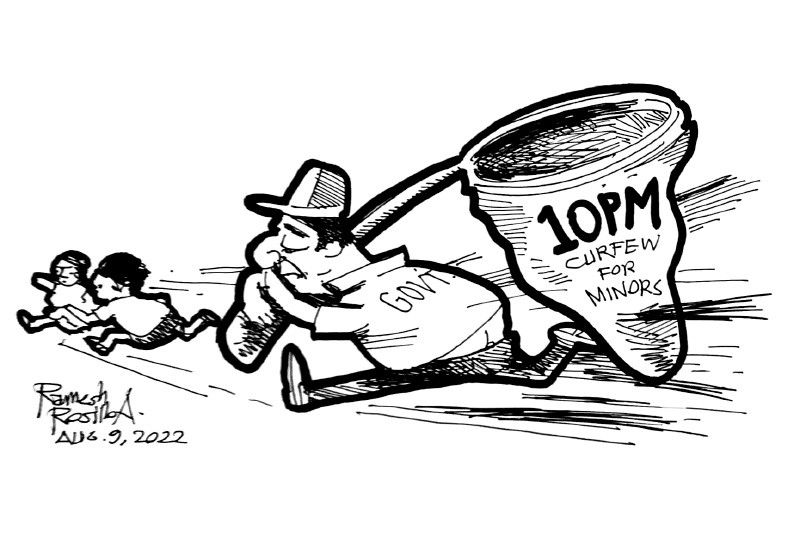 If you live in an ordinary neighborhood and not a condominium unit or one of those rich, gated communities, chances are you have been awakened during the late hours one night by youths shouting, running, or making noise in a nearby street.
While we cannot say this has become such a huge national problem, one lawmaker has seen it fit to file a bill implementing a curfew for minors for their own protection.
As proposed in House Bill 1016 filed by Rep. Bernadette Herrera-Dy of the Bagong Henerasyon Partylist, curfew hours for minors will be from 10 p.m. to 5 a.m.
"The bill seeks to mandate and strictly implement a set of hours during night time within which minors are prohibited from remaining outside of the home not only as a means of maintaining public order and safety and preventing the further rise in criminality but also in order to protect minors from potential threat that may arise in the remote environment which may be harmful or detrimental to their development," the proposed bill read.
There are exemptions, however, like for those who are on their way home or are heading to a school- or government-sanctioned event, for which they have to present evidence.
Yes, we see the need to protect our children from becoming victims of crimes as well as the danger of them becoming criminals themselves.
While the night itself is nothing to be feared, those who operate outside the law tend to become bolder as darkness falls. Darkness offers refuge for those who intend to commit crime; it makes running away easier, identifying perpetrators harder, and there are usually fewer witnesses around.
There have been similar bills filed to this effect. And while bills like these have their merits it's usually the enforcement part that fails.
While this bill metes out punishments for first, second, and third offenses, including fines, penalties, and eventual intervention by the Department of Social Welfare and Development, we know this will be a challenge for some local government units, especially the poorer ones.
Many LGUs have even given up on rounding up minors because they see no change in their attitude or in the attitude of those minors' parents.
If the government truly want to implement a curfew for minors they must get it right this time, both in how the law is crafted and how it is enforced.