EDITORIAL - The motorcycle-for-hire issue anew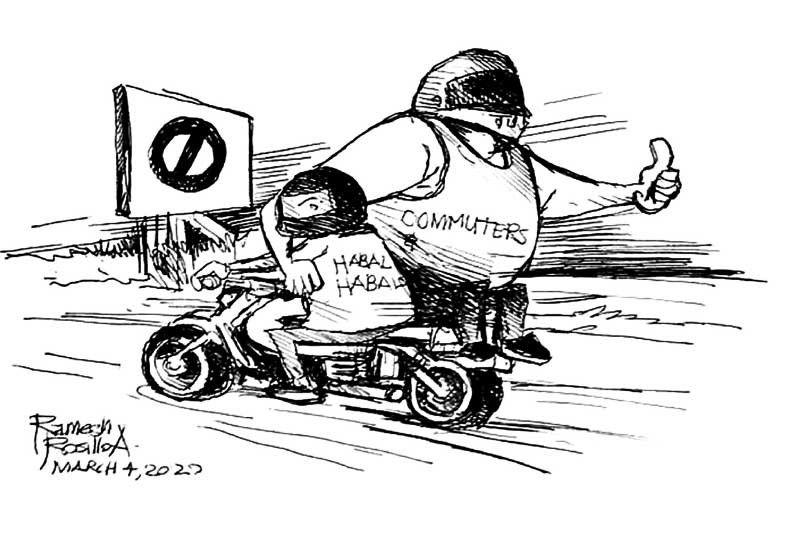 A three-year-old toddler was killed in an accident involving a prime mover truck and the motorcycle-for-hire he was riding with his mother in Talisay City.
According to reports, the two vehicles stopped alongside each other at the same red traffic light. When the light turned green, the truck moved forward, hitting the motorcycle-for-hire that had stopped to wait too close to the truck.
As a result of the collision, the toddler was thrown under the truck and crushed.
No doubt that critics against the use of motorcycles-for-hire can use this incident as a rallying cry to end this form of transportation once and for all. They can even say that it is unsafe and breaks the rules, considering that the motorcycle-for-hire was in a major highway at the time of the accident.
And we can't necessarily say they are wrong.
But those advocating for the legalization of motorcycles-for-hire will readily say that the mother of the toddler would have chosen another mode of transport if it was available to her. The fact that she took that ride meant she needed it and nothing better could be had at the time.
Others on the same side will say that motorcycles-for-hire continue to be used by people who live in areas that are not serviced by regular public transportation, as well as their only means of transport.
And we can't necessarily say they are wrong either.
So what should be done about motorcycles-for-hire? One on hand some people really need them to get from point A to point B because no one else can bring them there. On the other hand incidents like these can happen because some motorcycle-for-hire drivers ignore safety rules.
Perhaps the thing to do is allow motorcycles-for-hire to operate legally but rein them in to the point where they have to follow the rules of the road. Including who they can and cannot take as fare, what safety equipment they must have, and where they can operate. But then again this is easier said than done because motorcycles-for-hire aren't allowed by national law in the first place.
But whether we like it or not, there will always be a market for motorcycles-for-hire. The longer authorities put off dealing with this issue, the more people may be put at risk.