EDITORIAL - Get your shots
February 11, 2022 | 12:00am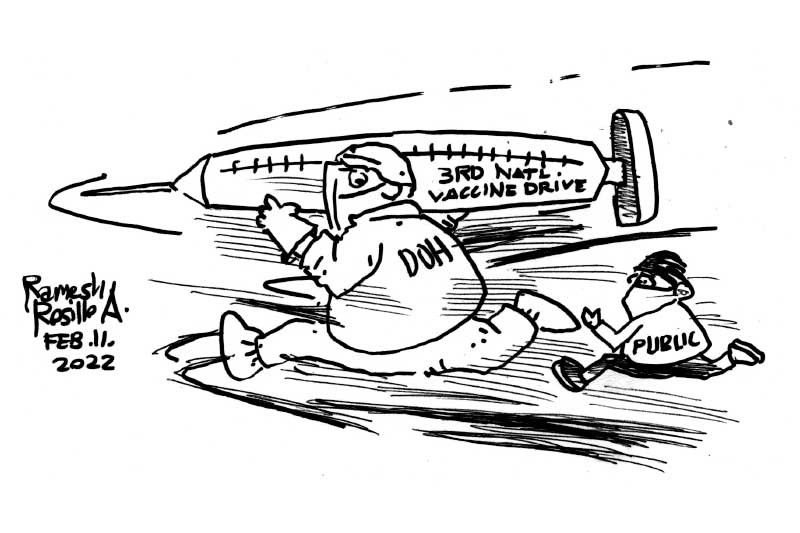 Today is the second day of a three-day vaccination drive meant to make up for opportunities lost because of super typhoon Odette last December. Around 73,000 individuals are expected to show up in 40 vaccination sites in Cebu City to get their jabs.
In case you haven't gotten your shots, it's not too late.
We understand that until now there is still vaccine hesitancy. It's not just the adults who are afraid to take it for themselves; now that the vaccination of children is being encouraged, the apprehension of some parents has doubled.
Again, for those still on the fence, allow us to explain why it's important to get vaccinated.
First, you will not experience the worst of the coronavirus if you get it. It is true that not all vaccines offer 100% protection against what they are supposed to prevent; there is always that little chance that the virus will slip through.
However, being vaccinated gives you better chances of not needing treatment or hospitalization if you do get infected. That means if you get COVID-19 the worst you will get to experience is a normal cold, sore throat, or slight fever. Unlikely chances of the shortness of breath or high fever that will require you to be hospitalized.
Second, getting vaccinated eliminates the chance for any more variants to develop. We all know about the variants, there was the Delta variant then the Omicron variant, and others that didn't merit being classified. They all evolved from unvaccinated people. If enough of us --if enough people around the world-- get vaccinated, there won't be any warm bodies left for the coronavirus to evolve into more harmful strains.
Third, getting vaccinated will mean more mobility. More and more establishments and transportation systems are requiring proof of vaccination before letting people in. And for good reason too; it just lowers the risk of the coronavirus spreading.
We don't have to say again that getting vaccinated remains our best chance of beating the coronavirus once and for all. Because many of us just can't be bothered with wearing a face mask or wearing it properly, or keeping a safe distance from others, or following other quarantine protocols.
We also tend to drop our guard, especially when the number of infections drops.
It's only in giving the virus lesser and lesser warm bodies to thrive in that we can beat it. There is no other way.