EDITORIAL - Lead by example
January 19, 2022 | 12:00am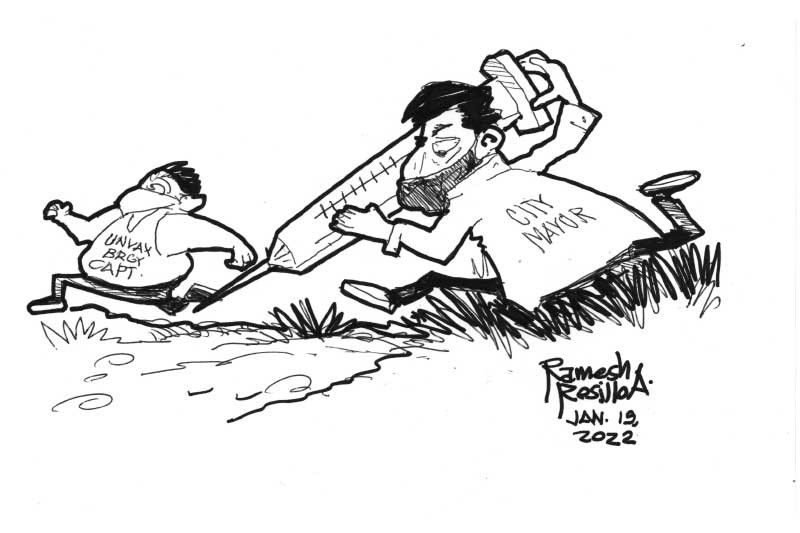 Passing down orders from his superiors at the Department of Interior and Local Government, Cebu City Mayor Michael Rama ordered barangay captains and barangay officials to get vaccinated or step down.
Rama said barangay leaders should lead by example.
"If you cannot show your leadership, what is going to happen? Sud na gani ka's gobyerno, you have to be part of the program of the government, otherwise, there is a better statement to that – shape up or ship out," the mayor was quoted as saying in a report in this newspaper.
We are all for respecting the rights and beliefs of others, even those who willfully refuse to take the vaccine for one reason or another. Even for the most outlandish conspiracy theories. However, they must also realize that they are also violating the rights of other in refusing to take the vaccine. Not just that, they are also risking the lives of others.
This is not just about spreading COVID-19 anymore, because even the partially and fully vaccinated can contribute to that if they aren't careful. This is about producing variants.
Again we would like to point out that these seemingly unending COVID-19 variants are produced in the bodies of those who are unvaccinated. As long as there are people who have not been vaccinated against COVID-19 there will always be the possibility of another, possibly even stronger, variant emerging from someone in some part of the world.
While we consider the move of the DILG in telling unvaccinated barangay captains to either resign or take a leave of absence a bit draconian, we cannot help but agree that it might show results.
Among other ideas, some people are already subscribing to the zombie apocalypse or microchip conspiracy theories involving vaccines, silly as those may sound. If they see that their barangay official is not willing to get vaccinated even as he or she represents the government and authority, this will only reinforce their beliefs.
Barangay officials should lead the way when it comes to the vaccination program, among the ranks of government officials they are the closest to the people after all.