EDITORIAL - Three in this tango
January 14, 2022 | 12:00am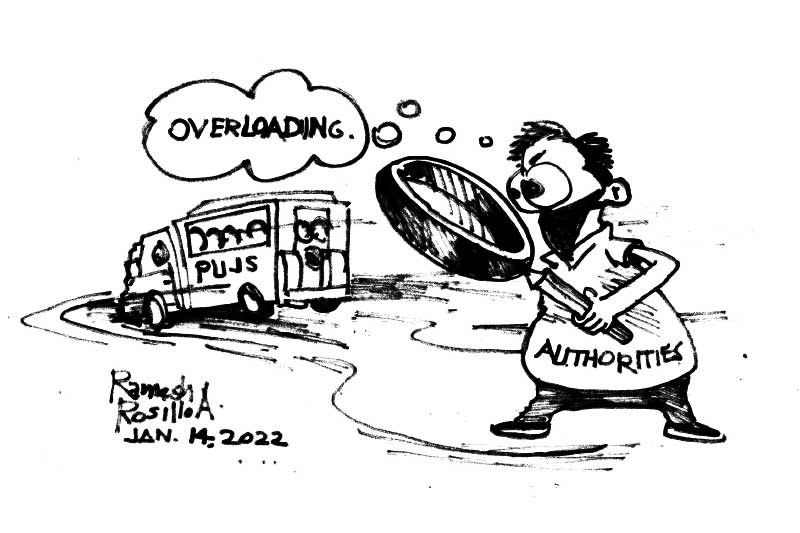 As of last week, 23 public utility vehicles drivers in Cebu were cited for violating health protocols. Most of them were found overloading their vehicles, something that is being discouraged to prevent the spread of COVID-19.
The drivers face a fine of P5,000 each time they are caught for overloading.
We understand why some PUJ drivers choose to stuff their vehicles to full capacity and then some. They are trying to maximize whatever profit comes their way. They also have a lot of catching up to do considering how long the country was placed on lockdown.
It's not fun being in an overloaded PUJ. Those of us who don't own a private vehicle know what it feels like to be crammed like sardines in a can, feeling the skin and sometimes the sweat of others and exchanging breaths.
However, it's not the inconvenience we are worried about, it's what we can possibly catch from being too close to other people, many of whom don't bother to wear face masks properly anymore.
All it takes is a cough, a sneeze, or even a request to pass fare and someone with COVID-19 can put in danger the rest of the passengers.
But it takes two to tango. It is not always the driver's fault. Some passengers cannot be bothered with limited vehicle capacity. More often than not their biggest concern is to get to where they are supposed to at the soonest possible time, and they are more than willing to crush others or get crushed themselves to get a seat.
And while some drivers know they are not supposed to overload their vehicles, they may not have the heart to tell someone who is tired from a long day of work, and who just competed with others to get a seat, to get off.
There are actually three parties in this tango, awkward as it may seem. It takes three parties to prevent overloading and possible risk of catching or spreading COVID-19; the authorities, the drivers, and the passengers themselves.
The drivers should do the best they can to limit passengers, the passengers should know cramming themselves into a space where more than fare can be passed around isn't safe, and the authorities should keep a watchful eye over all and catch those violating.
Easier said than done, we realize. But we have to do everything we can to stop the rise of COVID-19 again.