EDITORIAL - Kill this myth, and quick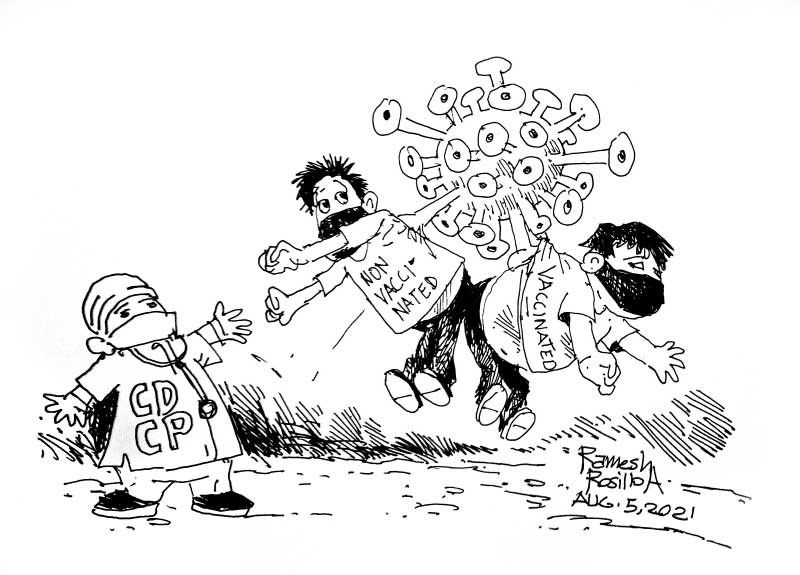 There is a myth going around that has to be debunked. And the sooner the better because the more it spreads the more dangerous the situation becomes.
We are talking about the myth of total immunity from COVID-19 brought about by vaccination.
No vaccine offers 100% protection to those who receive it. Experts have been saying time and again that even those who get fully vaccinated against COVID can still catch it. The chance may be slim, but it will always be there.
According to the Centers for Disease Control and Prevention, "a small percentage of people who are fully vaccinated will still get COVID-19 if they are exposed to the virus that causes it." They call such cases "breakthrough cases".
We believe this myth is dangerous because it gives people, especially those who have been fully vaccinated, a false sense of security that they can no longer catch the disease or spread it to others. This may lead them to reckless behavior that can result in the spread of the virus.
It also does not help that many people, including some government officials, now look to those who have not received the vaccine --many of whom haven't gotten them because of the lack of supply or poor distribution systems-- as the ones who are exclusively spreading the virus.
So, again, just to clarify, you can get fully vaccinated and still get the virus and spread it to others. This is why those who have gotten their jabs should still be mindful of protocols, should not become reckless, and also should not discriminate against those who have not received theirs.
That being said, we also encourage people to get vaccinated as soon as they can.
The news that those fully-vaccinated can still get COVID-19 should not put people off getting vaccinated because those same experts who said that the vaccines cannot guarantee 100% protection against the coronavirus also added that they can spare you from the worst of the coronavirus.
That means in the small likelihood that a fully-vaccinated person can still get COVID-19, he or she will not experience severe symptoms and may not even require hospitalization, which is most important in our situation today. What with COVID-19 patients lying in the sidewalk waiting to be admitted inside hospitals.
Vaccination now looks to be the only way we can beat the virus, because our citizens' lack in discipline to follow quarantine protocols and our authorities' lack in willpower to enforce them isn't likely to help curb the rising numbers anytime soon.