EDITORIAL - Keeping the unvaccinated at home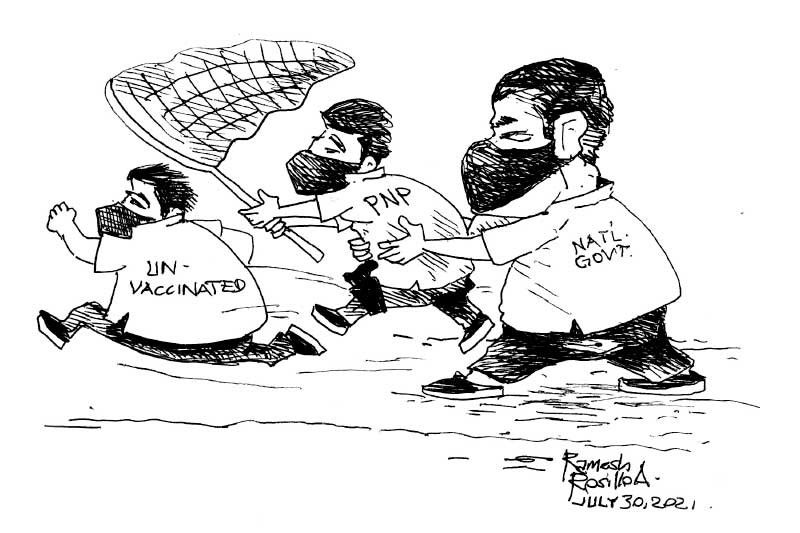 Speaking during his weekly address to the public, President Rodrigo Duterte said he wants Filipinos who do not want to be vaccinated not to be allowed outside of their homes.
"Ito ngayong ayaw magpabakuna, sinasabi ko sa inyo, huwag kayong lumabas ng bahay. Kasi kapag lumabas kayo ng bahay, sabihin ko sa mga pulis, eh ibalik ka doon sa bahay mo. You will be escorted back to your house because you are a walking spreader," the president said in a recorded public address aired late Wednesday.
In the first place it will be difficult to determine who isn't willing to be vaccinated from those who have not been vaccinated because the chance has not presented itself. It is always easy to lump the latter into the former.
Yes, it is ideal to keep those who have not been vaccinated in their homes, but there is no legal basis for authorities to forcibly remove them from the streets and essentially put them under house arrest.
There is no law penalizing those who can't or don't want to get vaccinated. Their presence outside cannot be deemed illegal or a crime.
It is also worth pointing out that we cannot expect all Filipinos to get vaccinated. The plain truth is that there will never be enough vaccines for all 109 million of us. That is why we are going for herd immunity in the first place.
In such a scenario we are going for a certain percentage of the population to get the vaccine. That means we should expect some to not get the vaccine; not necessarily because they don't want to get it, but because there just isn't enough, or because they no longer need to.
As to the president calling the unvaccinated "walking spreaders", it also needs to be clarified that even those who have been vaccinated can still catch and spread the disease. Medical experts have been saying this again and again and again. Just because someone has been fully vaccinated doesn't mean he or she can longer get sick, or make others sick, with the coronavirus.
Of course, there will always be others who will say or clarify that the president didn't mean what he said. Or that he was just joking. That he should not be taken seriously for some of his announcements.
Let's say he was. Or that he will take this back somewhere down the road. However, it is statements like these that create even more confusion and may even cause panic. It doesn't help the situation in any way.