EDITORIAL - Indifference as deadly as the virus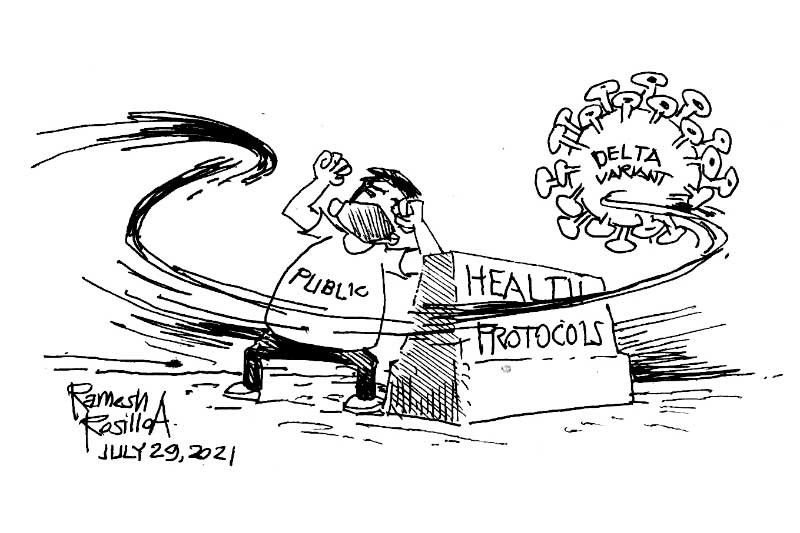 The number of those infected with COVID-19 is not going down in Cebu City. The hospitals here are no longer able to accommodate patients with the coronavirus. The city is now turning the Cebu City Sports Center into an isolation center to accept them. On top of that, we are running out of qualified medical personnel to take care of the sick.
This is the reality now, not just in Cebu City but in many places across the country. In Metro Manila, the OCTA research group is recommending a lockdown as a surge in coronavirus cases threatens to overwhelm their healthcare system.
Looming over all this is the threat of the Delta variant, said to be even more contagious and deadly than the others that came before it. We fear its possible spread here in Cebu. That is if it hasn't arrived yet.
However, if we look at how some people are reacting to these developments, they seem to be unaware of all this. We can even say blissfully unaware. Either that, or they have become indifferent to the situation, which is more concerning.
Indifference means the lack of interest, concern, or sympathy for something. And this is a behavior we are observing in more and more people. People who are uninformed don't act because they lack certain data about what should be done. People who are indifferent don't act because they just don't care at all what happens.
That crowd in Plaza Independencia last Sunday is a good example. People crowding together, people not wearing face masks or face shields, people going out of the house just for the heck of getting outside.
We don't think it's just a matter of people being uninformed anymore. The average person has a gadget with internet access. In all likelihood, he or she has seen videos showing ambulances with patients waiting to be let in hospitals, of signs outside emergency rooms announcing they are full and can no longer accommodate people.
In all likelihood, he or she knows all about this, but just doesn't care.
The sad thing is that this blatant disregard for the welfare of others isn't just happening in Plaza Independencia anymore. It is happening in more and more places across the city.
This indifference to the current crisis, to the health and safety of others has become as dangerous as the virus itself.
If we continue to be indifferent to the emerging situation, or think it is someone else's problem, or just don't give a damn at all, then we deserve the storm that is coming our way.