EDITORIAL - Keep the kids inside for now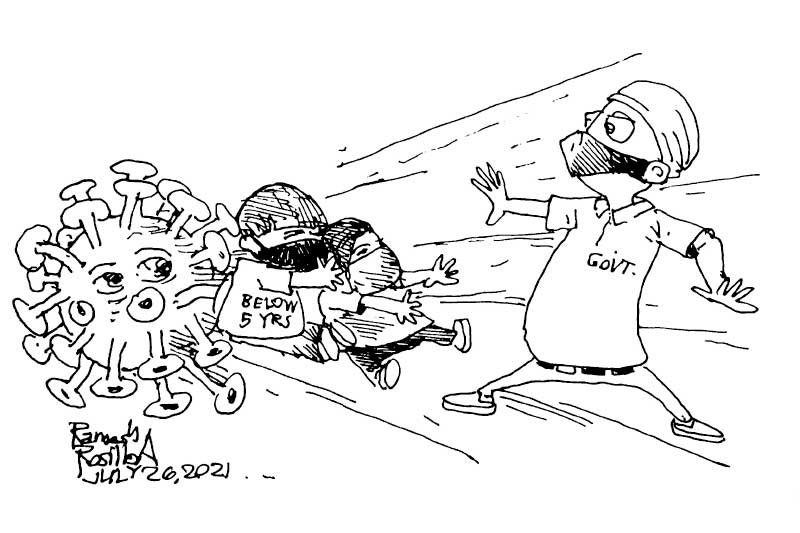 With the rise of the COVID-19 Delta variant, the variant that has brought India and Indonesia to its knees, comes the order from health authorities and the police to again keep children under five years old and above from leaving the house.
"Ang latest natin diyan ay hindi na muna natin papayagan sa ngayon… Dahil nagkaroon na tayo ng Delta variant, nagkaisa ang IATF na iatras muna itong resolution na ito," Health Secretary Francisco Duque said about rescinding the order allowing the children outside.
By all means, keep the children indoors.
It's not to keep just them safe anymore. There might be something else. Could children have become the variable we aren't considering in the continued rise of COVID-19 cases?
Could some of them be the reason the numbers are not going down? Could some of them have become, without our knowing it, the ones spreading the disease among the older population?
This is a question that has to be asked and answered.
Let's be honest here. Not all parents are keeping tabs on what their children are doing at this time.
In some Cebu City streets and neighborhoods, gangs of children are practically left alone to do as they please. Many of them do not even wear personal protective equipment.
It is very easy for some of them to catch the virus and spread it among themselves, then infect the older and more vulnerable population even as they escape its more devastating effects.
In all instances we cannot blame the parents for letting their children roam free; they might be busy making a living during this very difficult time. They may feel sorry for their children who have been locked indoors for the better part of last year, away from school, and away from their friends.
But at this time, letting them out to do as they please is something we cannot afford. Not with this Delta variant that is starting to make its presence felt. Some places and provinces in the country are already seeing their healthcare systems fail dealing with just the weaker version of COVID-19.
Imagine what happens if they had to deal with the more infectious and more deadly Delta variant.
For now, for their own safety as well as ours, keep the kids indoors.