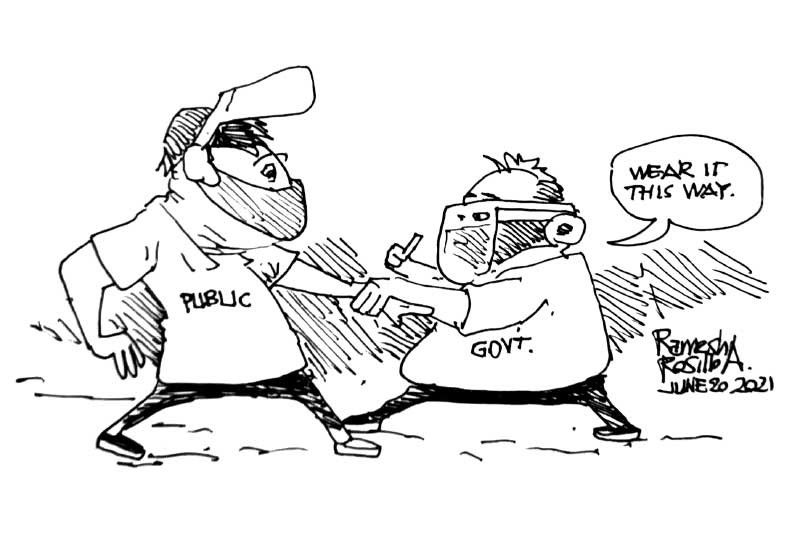 EDITORIAL - It is people who make face shields useless
(The Freeman) - June 20, 2021 - 12:00am
There are now proposals to scrap the wearing of face shields in public, except for hospitals. But for now there is still a lot of confusion as to whether this is final or not.
Many of those who want to do away with the wearing of face shields in public say they are not just inconvenient, a nuisance, obstruct vision, or make breathing difficult, they will say they aren't needed at all since they don't protect anyone from COVID-19.
They will point out that many nations that have beaten COVID-19 did not require their citizens to wear face shields.
However, they have to consider that these nations were likely first-world countries, or ones where people had enough discipline to follow quarantine protocols, or where government response to the pandemic crisis was quick and decisive, or a country that had a lot in the way of resource to throw at the problem.
This is not the situation here where people have already forgotten quarantine protocols and act like there isn't a pandemic going on anymore, where the vaccine hesitancy is still high and the vaccine supply low, where the government agencies and local government units still bicker over what safety precautions to enforce, and where a lot of confusion still reigns as to what is really the official policy.
Considering the above, this means we need all the protection against COVID-19 we can get, even the little bit of protection provided by a small piece of plastic between someone else's mouth and nose and ours.
In most cases, if a face shield is rendered totally ineffective, it is because it was worn incorrectly by people.
We may have seen this often --in fact some of us may actually be guilty of this-- many people wear face shields like visors over the head or as headbands. Others just carry them around without wearing them, or wear them at the back of the head.
In those positions, how much protection can a face shield actually provide a person?
To some extent we agree that they are bothersome, cumbersome, and a burden to the poorer families. But this does not change that fact that whatever little protection that could have been afforded to some people by face shields was totally negated when they were worn as headbands or visors.