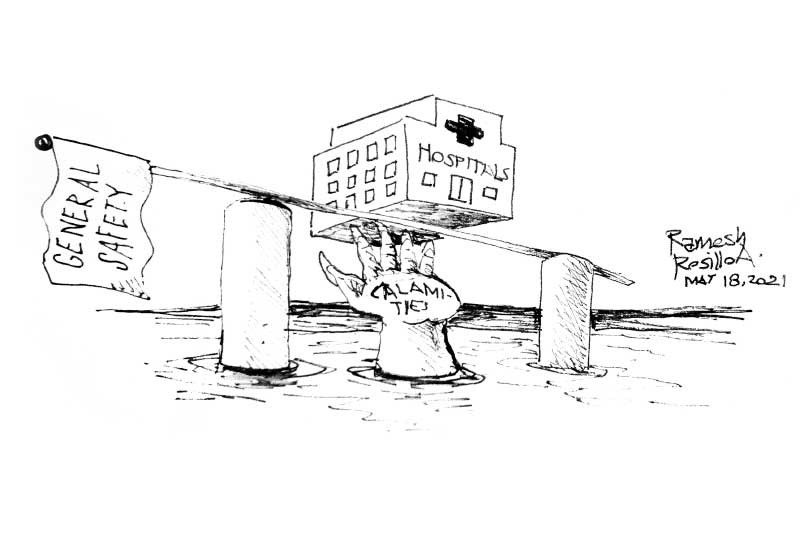 EDITORIAL - Hospitals and fires
(The Freeman) - May 18, 2021 - 12:00am
The Philippine General Hospital, one of the oldest and largest hospitals in the country, was hit by a fire last Sunday.
The fire, which struck during the hours before morning, caused the evacuation of infants from the pediatric ward and well as other patients, many of whom sought shelter at the hospital's chapel.
Because of the damage caused by the fire, some surgical procedures, some of which can only be performed at the PGH, had to be suspended. As of yesterday, hospital authorities said they hope to get things back to normal in 24 to 48 hours.
A fire in a residential neighborhood is bad enough, but things are bound to get worse if a fire happens in a hospital.
We are not just talking about losing sensitive, expensive, and life-saving equipment needed by many; a hospital is also likely to have people who cannot immediately evacuate themselves in case of an emergency.
When it happens to be a hospital with a fair number of COVID-19 patients, the situation can become even more complicated.
And if it happens to be a specialty hospital, or the only one in an area that can perform certain medical procedures, we may be looking at an even bigger tragedy.
It is good that no one was reported hurt or killed during that incident. Damage also seems to have been minimal since the hospital said they may be back on their feet soon. However, it could have gone the other way just as easily.
We have some good hospitals here, there is no doubt about that. But perhaps it is time to check how safe they are in case of fires, and if they have evacuation plans, contingency plans to continue operations after a fire, and the like, just to make sure.
We are well into the dry season and fires are really still a risk anywhere. Perhaps even in the very places where we take ourselves and our loved ones to heal, and where we believe they will be the safest of all.