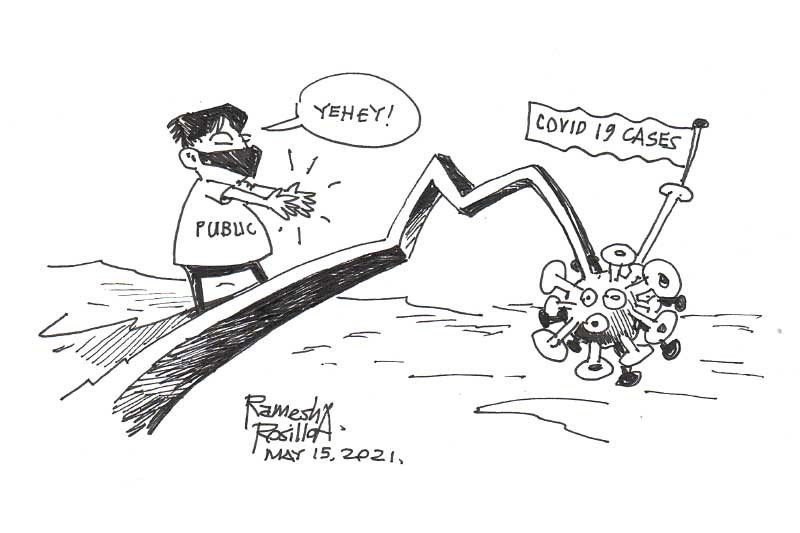 EDITORIAL - Easy to forget
(The Freeman) - May 15, 2021 - 12:00am
As far as the figures show, Cebu City is headed in the right direction where the fight against COVID is concerned. Based on reports, Cebu City posted the lowest number of active COVID-19 cases since mid-January this year.
As of Thursday, there were only 367 active cases left in the city.
Among the Cebu City barangays, it also looks like the numbers are going down. Twenty-six barangay have reported no recent COVID-19 transmissions so far.
This is a good development, of course, but it is figures like these that tend to make people complacent and drop their guard.
If we look everywhere these days, it seems people have forgotten there is still a pandemic going on and that there is still a quarantine --albeit modified-- still in force.
Which means people shouldn't be going out if they don't have anything important to attend to, people should be wearing masks and face shields properly in public places, and kids should still be staying home.
And we are seeing the exact opposite of this in many parts of the city every day. More and more people are out and about for no reason. People wear face masks like chinstraps and face shields like headbands. More and more kids are being left alone to wander the streets.
A more worrying indicator? Even daily traffic seems to be approaching pre-pandemic volume.
Before we heave a sigh of relief, we should still be reminded that there is still a pandemic going on, and many of us are still at risk of catching the virus and dying from it. It might be tempting to take it easy now because the numbers here are down, but that really isn't the same case in other places like Zamboanga and Palawan.
The situation is still volatile and we can be faced with a crisis even before we know it. This is evidenced by the shutdown of the Mactan-Cebu International Airport for two days because quarantine facilities for returning Overseas Filipino Workers is already filled to capacity.
So what are we getting at? We should still act like there is a killer virus on the loose. Given what we see every day, it is so easy to forget there is still a pandemic going on.
Things might be looking up for now, but this can immediately go south in a heartbeat if we forget.