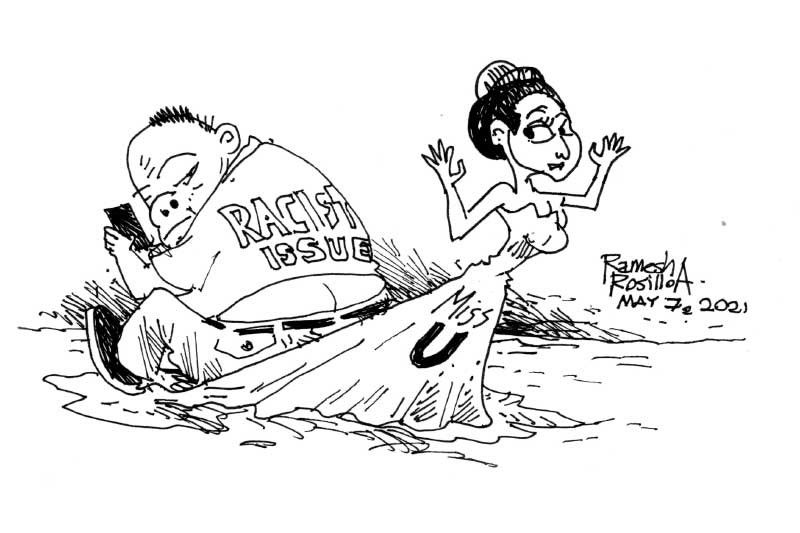 EDITORIAL - Pinoys and racism
(The Freeman) - May 7, 2021 - 12:00am
When we mention Filipinos and racism it is usually us on the receiving end of judgment based on how one looks or where one is from. However, this time it seems that some Filipinos are perpetrators of such despicable behavior.
Just recently Nova Stevens, Canada's contestant for the Miss Universe pageant, was the subject of a slew of undesirable names and descriptions by some Filipino netizens. The common theme of the ugly comments? The dark color of her skin.
The comments are so disagreeable and inappropriate we would rather not print them here.
Stevens did not take the comments lying down.
"Please see the beauty that is in this world. We don't need to look the same, we just need to treat each other the same," she said.
The furor was enough to move our own Miss Universe candidate Rabiya Mateo to apologize to Stevens on behalf of her --and our-- more judgmental fellowmen.
Thankfully, those racist comments did not seem to be the general sentiment of a Filipino audience, just the judgment of a few beauty pageant "enthusiasts" who posted their comments online.
But racism is racism, no matter where it comes from.
Racism isn't that much of a hot-button topic here as it is in the US or other countries with a turbulent past resulting from racial tension. However, it has become an accepted part of our culture --although sometimes unconsciously-- that lighter skin is more desirable and darker skin is looked down on.
We only have to look at our markets to see how many-skin whitening products are out there. We only have to look at our pop culture to see how many mestizas and mestizos seem to get more attention and admiration in showbiz than those of a darker shade. At one time there was even the tendency to delegate such persons to comedic roles only.
Do we even have to bring up the perception of our darker-skinned indigenous people?
Those who are quick to condemn, demean, or degrade others just because they are darker aren't much different from those people who attack others just because of their Asian appearance or descent in the US and other white-majority countries.
If we want people to see past our slanted eyes then we should also be able to see past the color of another person's skin.