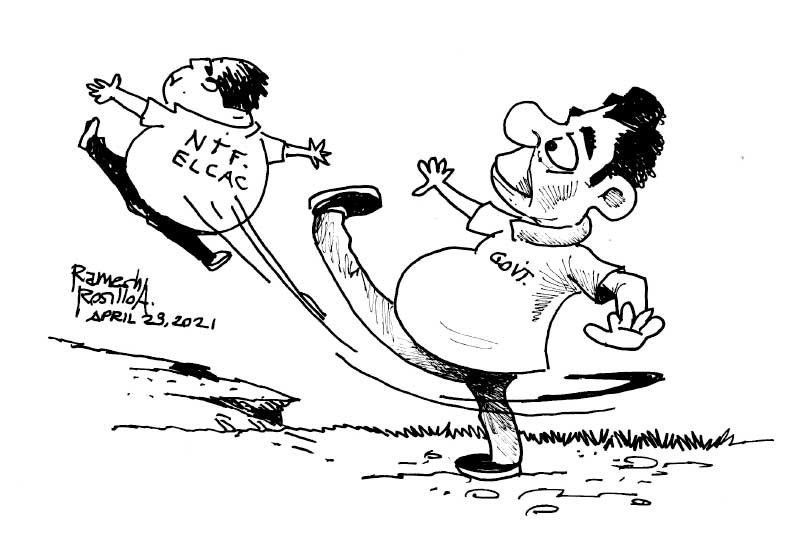 EDITORIAL - Defund, if not deactivate
(The Freeman) - April 23, 2021 - 12:00am
There are now calls from senators to defund the National Task Force to End Local Armed Conflict (NTF-ELCAC), following its statements against that the community pantries around the country are actually a front to forward the interests of the communist movement.
Yes, it is time to examine the usefulness of this task force. Perhaps even deactivate it if there is enough reason to do so.
The NTF-ELCAC isn't exactly a task force essential to nation building. Created under Executive Order 70 in 2018, the NTF-ELCAC was meant to "synchronize the utilization of the government's instrumentalities of power with the capabilities of private sector stakeholders to finally end the 50-year long deceit, lies and atrocities committed by the communist terrorists against the people".
Fancy words for a task force whose job is actually already being done by other government agencies or entities like the police, army, and the Department of Social Welfare and Development.
It also seems to be confused as to who the communist-terrorists really are. In the past it has tagged private individuals, activists, organizations, and even actresses as communists just because they took a stand on a particular issue or spoke opinions they did not agree with.
Just last Tuesday, in an interview with One News' "The Chiefs" on Tuesday, Lt. Gen. Antonio Parlade Jr., a spokesman of the NTF-ELCAC likened Ana Patricia Non, the founder of the Maginhawa community pantry, the first such initiative that spawned similar movements across the archipelago, to the devil.
"She did it alone right? That Ana Patricia. Same with Satan. Satan gave an apple to Eve. That's how it started," Parlade was quoted as saying in a report.
The NTF-ELCAC is not only not helping at this time, it is also hindering efforts of people to help other people. In the Visayan language "wa pay matabang, mamulabog pa g'yud."
Yes, better to review how useful, or necessary, it really is.
With a whopping budget of P17 billion a budget bigger than what more important government agencies are getting-- imagine how many how many people left in need and families left starving by this pandemic can be fed and how many community pantries can be supported.