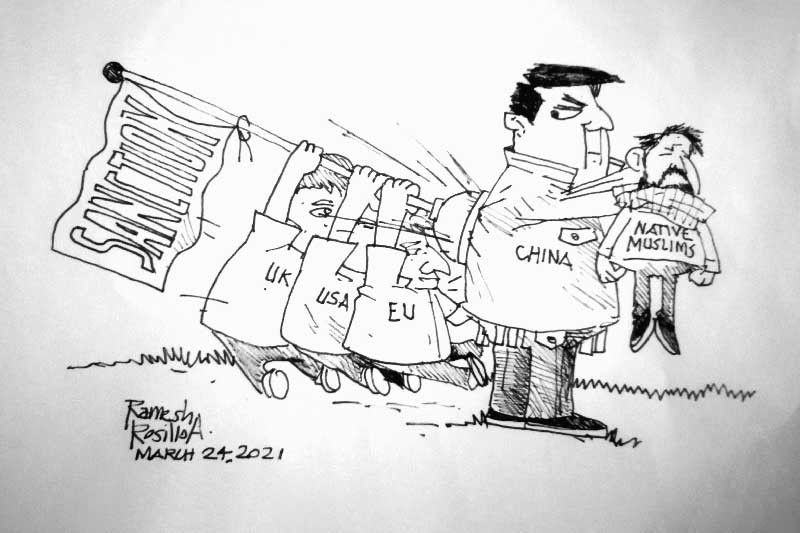 EDITORIAL - Holding China to account
(The Freeman) - March 24, 2021 - 12:00am
In a move no one saw coming, the United States, the European Union, Britain, and Canada have imposed sanctions on China for its alleged abuses of Muslim natives in its Xinjiang Region, something that some sectors have been trying to point out for a long time now.
The sanctions blacklisted former and current officials in the Xinjiang region, named as Zhu Hailun, Wang Junzheng, Wang Mingshan and Chen Mingguo.
"Acting together sends the clearest possible signal that the international community is united in its condemnation of China's human rights violations in Xinjiang and the need for Beijing to end its discriminatory and oppressive practices in the region," read a statement from the UK's foreign ministry.
Of course, in typical Chinese fashion, the Chinese Communist Party decided to impose their own sanctions on those countries.
This move by those western power is unexpected but not necessarily unwanted. While from our end we may not have seen with our own eyes what the Chinese allegedly are doing to the Uyghur natives in Xinjiang, there are many credible sources that tell of how they are being imprisoned and forced to change their way of living there...and much worse.
Some sectors have even described what is being done as nothing short of genocide.
We look forward to more similar moves regarding China, and by this we mean China's being called to account for events or developments that it should answer for, or at the very least acknowledge.
Aside from their abuse of a minority living in their own territory, there is their role as the world's biggest polluters in terms of greenhouse gases. There is also their constant escalation of tension in the South China Sea, not just with the Philippines but with other Southeast Asian nations as well.
Then, underneath all of this, there is their responsibility for downplaying and even trying to cover up COVID-19 when it first broke out, resulting in the virus spreading around the world where it still wreaks havoc today.
China still has to be made to account for that, most of all.