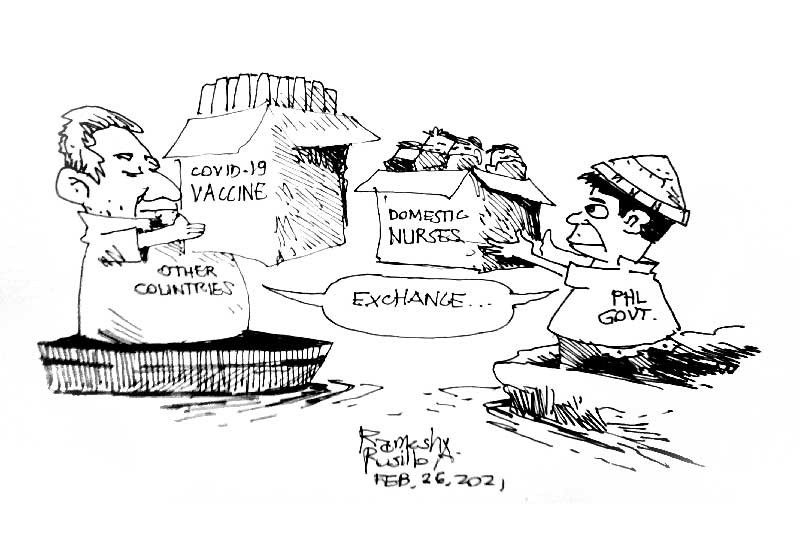 EDITORIAL - Our nurses should not be treated like commodities
(The Freeman) - February 26, 2021 - 12:00am
The alleged proposal to deploy nurses to the United Kingdom in exchange for 600,000 doses of vaccines against COVID-19 has been shot down.
"We've got no plans to link vaccines with those conversations around the recruitment of nurses," UK Ambassador Daniel Pruce told journalists here the other day.
As to where is proposal came from is now a mystery, because while Pruce claimed the proposal was mentioned to him by Labor Secretary Silvestre Bello III a few weeks ago, Bello himself came out yesterday to deny this.
In clarifying what he said, Bello said he was merely saying that our nurses headed to the UK should get their vaccine shots before being deployed.
"Wala kaming kinalaman dyan sa status ng vaccine. Ang amin lang, if they want our nurses, I want to be sure na pag pinadala natin eh safe sila," Bello said in a news report.
Before everything else, it should be mentioned that it is good for some of our nurses to receive employment abroad. We won't argue against that. They deserve much more than what they get here considering their working conditions and long hours. From abroad they can also send money to their families back here, hence becoming a crucial driving force in our economy.
In many places abroad they can also serve as informal ambassadors, giving foreigners an idea of how responsible, helpful and vitally important Filipinos can become to any community.
However, the circumstances of a deployment also matter.
A Filipino nurse going to work abroad as a matter of personal choice is a good thing, but when a Filipino nurse has to work in a certain country because his or her government wants something in exchange for that employment then that is something else entirely.
That would be lowering the status of our nurses from human beings to mere commodities that can be bartered for any favor or item. It would be taking their dignity away from them.
It is good that the UK thumbed down the proposal. It would seem that they have more respect for our nurses than some of our officials do.