EDITORIAL - The silent, deadly threat
February 19, 2021 | 12:00am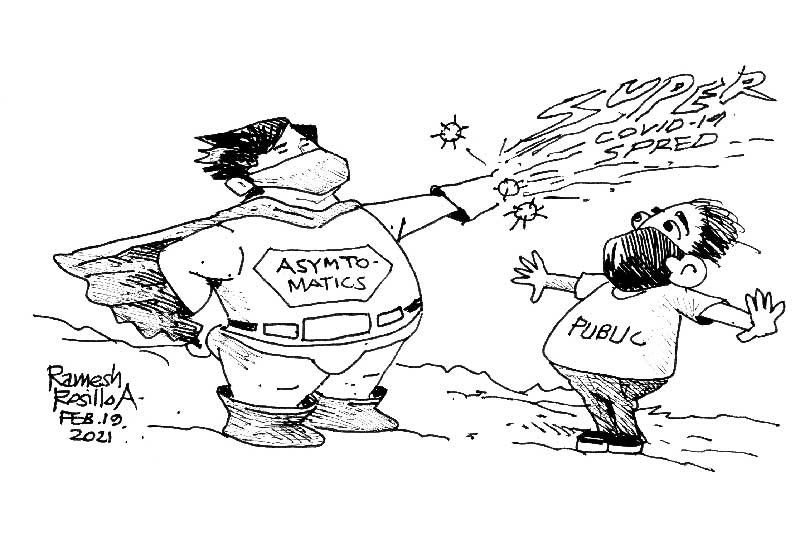 As far as the Emergency Operations Center is concerned, it is the asymptomatic carriers of the COVID-19 virus who are driving the upward trend of infections the city is currently experiencing.
"Actually ang mga asymptomatic nga wala mag self-discipline sa health protocols ang super spreaders. The elderly, the innocent and the sick ones are paying the price…at times with their lives," said Cebu City Councilor Joel Garganera, also EOC deputy chief implementer.
What he is saying actually makes sense. The virus continues to spread, but those who with the most severe symptoms are in isolation, so it must be being spread by those who don't show any of them at all.
And those spreaders continue to be out in public.
This is all the more reason for those who continue to ignore quarantine protocols to really wear a mask, keep their distance from others, and just stay home when they have no business outside.
Picture this scenario; a man actually caught COVID-19, but he doesn't know it because he doesn't have cough or the other symptoms associated with COVID-19.
Because he is sure he doesn't have it, he doesn't bother to wear a mask, he doesn't bother to keep his distance from others, and also goes out of the house whenever he can.
He goes to work, infects his co-workers; goes to the mall, infecting others; drops by the neighbors on his way home, infects them too; then arrives home, infecting everyone there.
You may say this is an unbelievable scenario, but how else do we explain those with COVID-19 who don't have a history of travel abroad, don't go anywhere else aside from the workplace then back home, or haven't left the house at all?
Keep that mask on, keep your distance, and stay home if you have no business outside. You might be saving not just your life but those of others as well. No one is more dangerous than the threat who isn't even aware of the danger he or she presents to others.