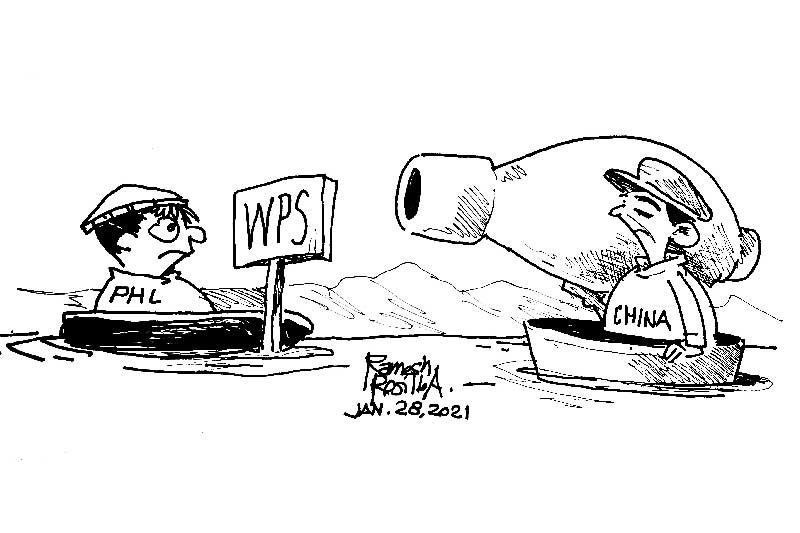 EDITORIAL - Their law, our wakeup call
(The Freeman) - January 28, 2021 - 12:00am
By now most of us might have already heard about the latest development in the South China Sea/West Philippine Sea crisis. China recently passed a law authorizing its coast guard vessels to fire on foreign ships that are deemed to have violated China's sovereignty.
It will be effective on February 1 yet. But already, it is causing concern not just among nations with various claims to islands in different parts in the region but also among other countries that depend on that vital sea lane for trade.
Even as it waits for the law to kick in, Beijing keeps on insisting that it wants to make the area a "sea of peace, cooperation and friendship". Empty words, especially when you have the barrel of a deck gun pointed at you.
If there was any doubt as to who is escalating tension in the region over this issue, this latest development should make things clear, especially to those government officials who insist on saying that China is our friend.
We have good reason to be worried for our fishermen. The new Chinese law doesn't specify that the foreign vessel has to be a ship outfitted to engage in war; it just says vessel. So our hapless fishermen in their little bancas and outriggers will be torn to ribbons should the Chinese coast guard vessels fire on them.
What's worse? We cannot hope to counter such an act with our own guns. Our coast guard doesn't just have limited firepower; it has limited vessels to begin with.
This latest move by China should be a wakeup call to our leaders. Let's hope they finally realize that China isn't the friend or ally they have always portrayed it to be, and take whatever action it can to assert our sovereignty.
Along that line, it should spur them to take other actions to make sure we don't fall deeper and deeper into the Chinese debt trap, or inadvertently advance the interests of the Chinese Communist Party by favoring companies and corporations that only benefit Chinese workers.