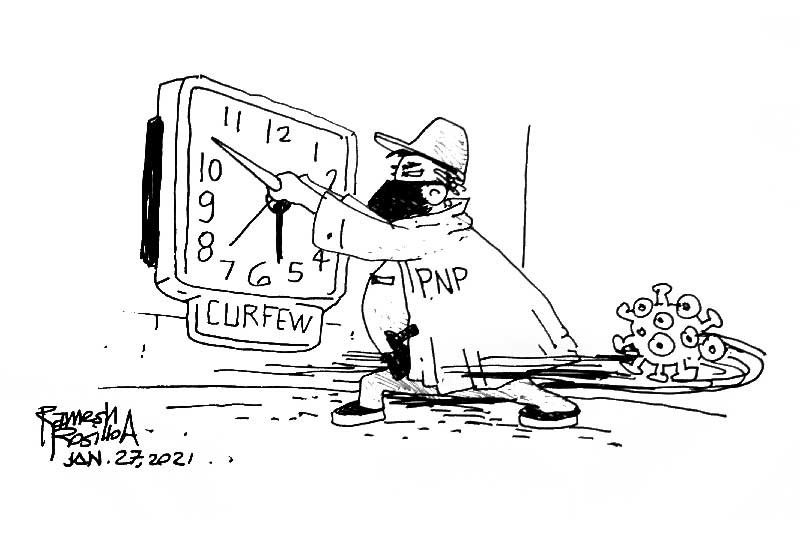 EDITORIAL - Stricter enforcement better than earlier curfew
(The Freeman) - January 27, 2021 - 12:00am
To arrest the rising cases of COVID-19 in Cebu City, the Cebu City Police Office wants the citywide curfew imposed earlier at 10 p.m. instead of 11 p.m.
"Usa sa atong basis ana is para the more nga ma-control nato ang movement sa tawo, kay kung early na man gud nato ang curfew, mas ma-prohibit na man ang mga tawo nga mugawas," Police Lt. Col. Wilbert Parilla, Deputy City Director for Operations of CCPO, is quoted as saying in a report in this newspaper.
This may have some effect on the rising numbers. However, there is something else that can be done to really have an effect on them; stricter enforcement of quarantine rules and restrictions.
There has been a steady decline in quarantine protocol discipline since our downgrade to General Community Quarantine.
We can see it all around us. Many people no longer bother to wear personal protective gear when out in public, or don't wear them properly. They expose their nose or even their mouth by pulling the face mask down under their chin like it is some kind of strap. Many wear the face shield over the head like it is some kind of fancy headband.
More and more people are also going out of their homes for purposes really not necessary or vital. They hang out in groups near main thoroughfares. Many parents now also let their children roam the streets unsupervised. The same goes for those elderly who should not be out in public yet.
It's not just the people becoming more and more complacent. Policemen, tanods, or other authorities manning many of the quarantine control points in different areas of the city no longer even bother to check who shouldn't be outside anymore. With a cursory wave of the arm, they let everyone through; private vehicles, public vehicles, motorcycles, and pedestrians.
Do we even have to mention how many of us have lost the concept of proper physical distancing?
Aside from the holiday surge, it is this lack of discipline that is bringing the COVID-19 numbers up again.
If nothing is done to restore discipline and to make sure the rules are followed, it won't matter if we impose curfew as early as 10 p.m., 9 p.m., 8 p.m., or even earlier, the numbers will just continue to rise.