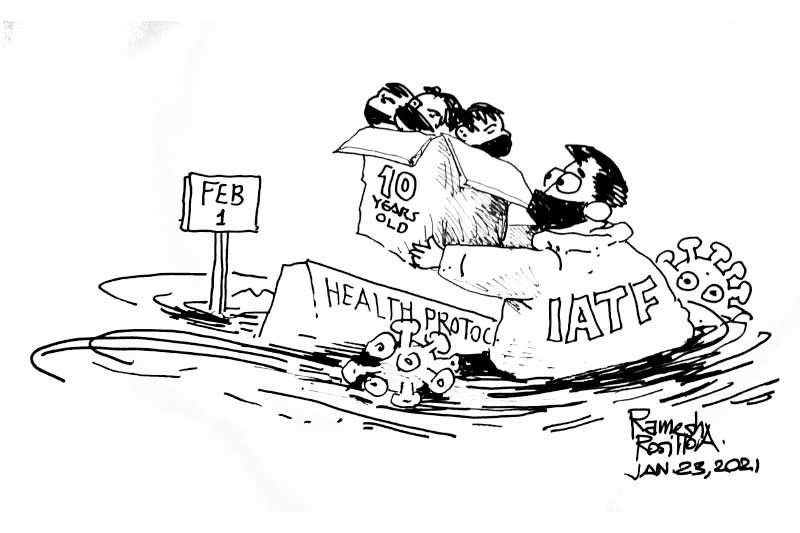 EDITORIAL - Not a good idea
(The Freeman) - January 23, 2021 - 12:00am
The Inter-Agency Task Force for the Management of Emerging Infectious Diseases is convinced that in some areas it has become safe enough to allow minors 10 years old and above to be out in public again.
This will be effective in areas under modified general community quarantine by February 1.
However, Dr. Tony Leachon, former advisor to the IATF, has reservations about the move. Particularly in the face of the new COVID-19 variant.
"We know that this particular variant is more common in less than 20 years of age and this has been proven in several studies in the UK and the US... The variant is highly transmissible, this is about 70% to 80%, and if the kids are allowed to go out they might actually be superspreaders who might be asymptomatic and carry this particular virus at home," he is quoted as saying in a Philstar.com report.
We share the same view; children may become unwitting superspreaders. And it's not just of the common COVID-19 virus, but the new variant as well.
We only have to look at the carefree and innocent nature of children, even those above 10 years old. They don't think twice about close contact with others. They don't care about personal space with the best of their friends. It is in their nature to gather and be close, and we cannot blame them for that.
It is also not in their nature to be worried or to be wary, considering their youth and the fact that they still have their whole lives ahead of them. So there is considerable reason to be concerned if we allow them outside again at this time.
We must not forget that the number of COVID-19 infections here are still on the rise. We are now at over 508,000. And there are no signs it is slowing down.
If we let our kids outside too early this may be a decision we will soon come to regret. The limited freedom they experience today is a small price to pay to secure the tomorrow we all should have.