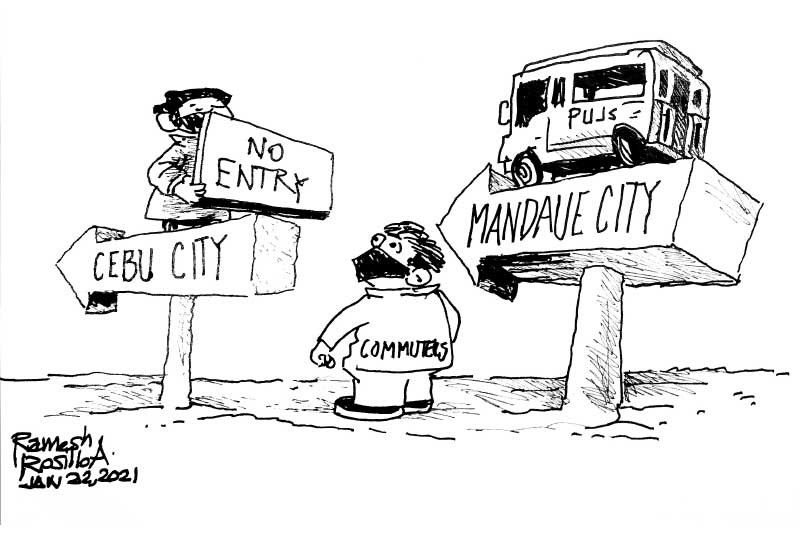 EDITORIAL - A request worth studying
(The Freeman) - January 22, 2021 - 12:00am
The Mandaue City Council wants the Cebu City government to allow the entry of their passenger utility jeepneys into certain areas.
According to a report in this newspaper, the resolution sponsored by Mandaue City Councilor Jimmy Lumpas is requesting the Cebu City government to allow the entry and passage of traditional PUJs that ply routes serving Ayala Mall, Country Mall, and Manalili Street.
With this came his assurance that the Mandaue PUJ operators who are now plying routes again underwent a tedious process and got accreditations from both the Land Transportation Office and the Land Transportation Franchising and Regulatory Board just to prove their drivers and vehicles are safe.
To this we say why not. If done properly, this can actually be doable. By done properly we mean in increments. We can start with small numbers; no need to flood our streets with PUJs from Mandaue just yet.
We understand there is a need to secure our borders, and we won't argue against that. However, there is also a need to provide transport to certain sectors of society.
Let's be honest about this. People who have to commute on public transport in this time of the pandemic suffer more compared to those who readily have their own private transportation. Commuters cannot easily and quickly just go somewhere, even if they have a valid reason to do so. They will always be at the mercy of the availability of public transport, and we all know how so few PUJs are plying the streets right now.
The trouble is double for those who live in one city but work in another, or those who have to take multiple trips to go to work and to get back home.
If this is something that the Cebu City government considers can be done, it should be studied as to how. It will mean great relief to those whose lives are made more miserable because they have to commute in a time when public transport is limited.