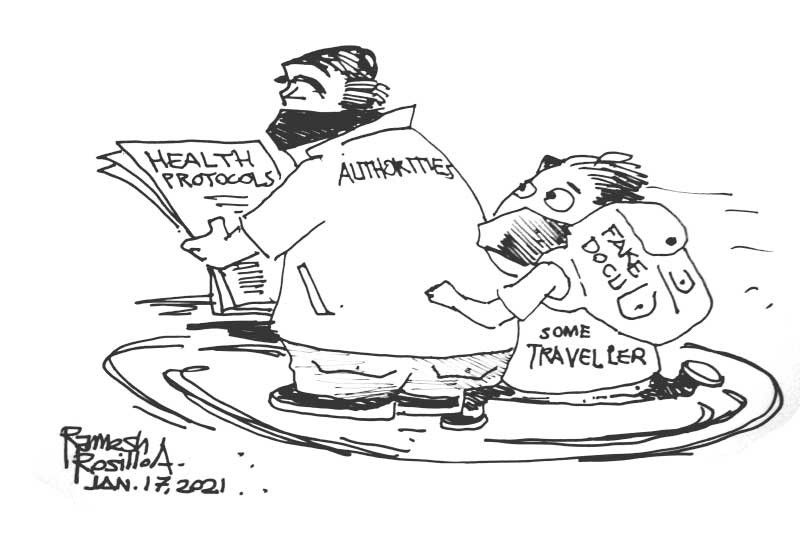 EDITORIAL - Watch out for fakes
(The Freeman) - January 17, 2021 - 12:00am
Aside from the virus proliferating among the population there seems to be something else sinister spreading among the least honest among us; fake documents.
Every once in a while authorities arrest someone trying to get something using a fake ID or other false papers. However, it seems lately that counterfeiters have decided to focus on making documents that allow a person freedom of movement even during the pandemic or to certify someone is free of COVID-19.
Considering the voluminous certificates, clearances, acceptances, and other documents that offices, provinces, and local government units require, someone must have figured out it was a good way to make money.
Just recently, seven people were arrested at the Mactan-Cebu International Airport for allegedly presenting fake letters of acceptance in order to be allowed to enter Cebu Province.
Before that incident, a vendor was nabbed for selling counterfeit quarantine passes. He had his own pass photocopied and was selling each copy at P20.
In another case, an internet shop in the capital was raided after an informant told the police they offered to make fake COVID-19 clearance certificates using image software.
Those arrested are now facing charges.
We cannot stress enough the danger of these fake documents, certifications, and clearances. Armed with such forgeries, anyone can convince others he or she can go through borders he or she shouldn't be able to under the current restrictions.
That person can also convince others that he or she isn't carrying the virus or has been cleared of it, even if that may not be the truth.
You can only imagine what will happen if persons who shouldn't travel are able to do so and those who are actually at risk, to themselves and others, are allowed in public or certain places.
Those documents give others a false sense of assurance. And at this time, with the new COVID-19 strain already confirmed here, we cannot afford any slip-ups.
We laud the authorities for those recent operations, but we also ask them to keep a sharper eye for such activities. If there is any individual or syndicate making a business out of churning these fake documents, then they should be stopped immediately.