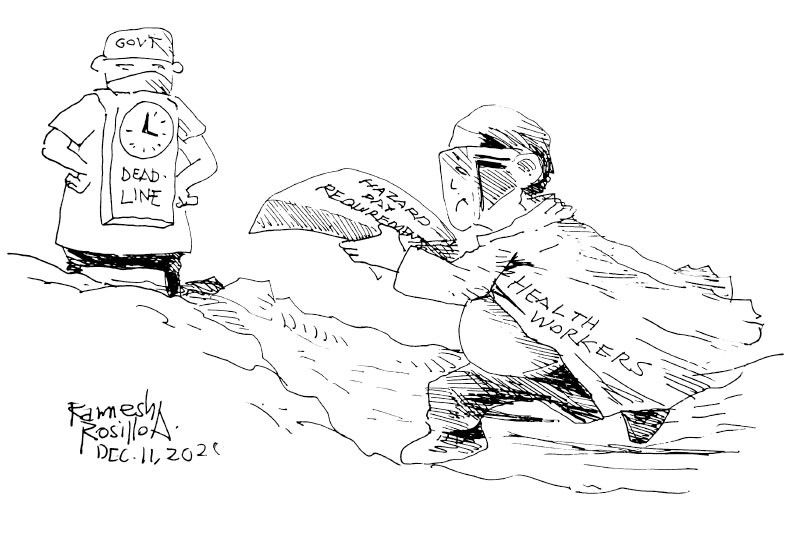 EDITORIAL - Extend the deadline
(The Freeman) - December 12, 2020 - 12:00am
The good news is that there will be an extension for frontliners to submit their documents to get their Active Duty Hazard Pay (ADHP) and Special Risk Allowance (SRA).
The bad news is that --at least as of this writing-- the extension ends today at 5 p.m., after the one-day deadline earlier given to them last Wednesday.
Now the frontliners want more time to be able to process the documents needed for their ADHP and SRA.
"This is unacceptable, and frankly, a disservice to the thousands of healthcare frontliners who have risked their life and limb to combat the COVID-19 pandemic," read a letter from union leaders of various hospitals in Metro Manila to Department of Health Secretary Franciso Duque III.
Yes, they should be given more time.
Our frontliners here cannot be faulted if they think that they are being taken for granted. They work long hours for meager pay, others are being stopped from pursuing more well-paying jobs abroad, while others face a lot of indifference and discrimination from some sectors of society because of the work they do. And now it seems they are being given a hard time getting what is due them.
According to many associations of frontline workers, they were only told about the Wednesday deadline on Monday, which gave them just a scant two days to prepare everything.
This just isn't enough. We have to consider that they have to gather those documents, or wait for them to be prepared by someone else. On top of that they still have their jobs to do in the midst of the pandemic.
While it might not be the intention, many of us can't help but get the feeling that the government seems to be doing whatever it can to make sure as few frontliners as possible are able to avail of the ADHP and SRA.
A one-day deadline is ridiculous, giving another two days for the deadline, while more sensible, is still being insensitive to their plight.
The frontliner associations are asking for a week, this extension of the deadline should be given.