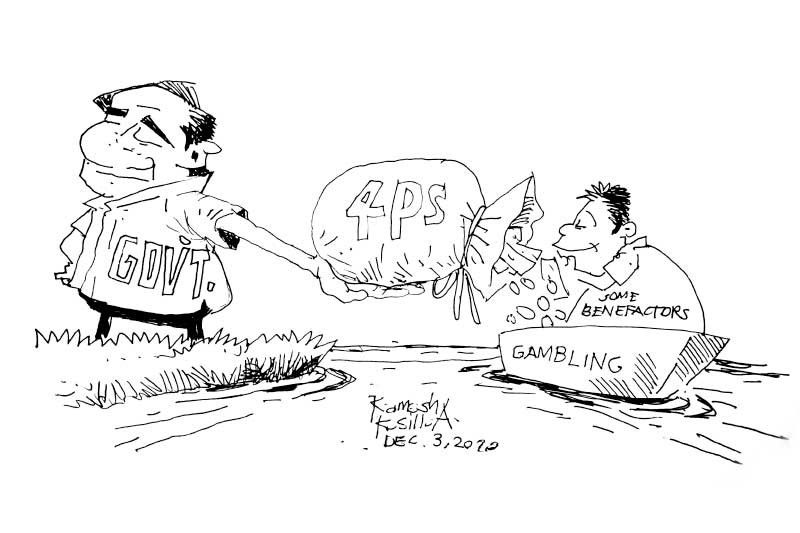 EDITORIAL - A fool and his money
(The Freeman) - December 3, 2020 - 12:00am
A news event recently happened that will likely escape the attention of most people. To be honest it's not really something that would affect the rest of the world; four people were arrested after being caught gambling in public in Daanbantayan town.
But what makes the story more interesting is that two of them were later found to be beneficiaries of government financial programs. One recently got money from the Unconditional Cash Transfer (UCT) Program while the other is a beneficiary of the Pantawid Pamilyang Pilipino Program (4Ps).
While it was not confirmed that they were actually using the government money they received to risk in a game of chance, it would be safe to assume they were doing so, considering that they applied to benefit from the said programs because they lacked money to support their families.
This may seem like an isolated incident, but chances are great that there are others out there who did the same and are continuing to do the same; gambling with each other with money given to them by the government.
We would like to remind our brothers and sisters who avail of these and other programs and then throw the money away needlessly of two things.
One is that while that money government did come from the government, it was sourced from the taxes paid by hard-working people. Many of these same hard-working people aren't actually qualified to benefit from those same programs.
Another thing they have to remember is that resources, and that includes money, should be spent wisely at this time. Most especially in these times when the ones who end up actually paying for their benefits are losing their jobs and businesses left and right.
Engaging in games of chance is no way to grow money. In fact, it may be the fastest and easiest way you can lose it. You may get lucky some of the time, but not all of the time.
There is a lot of truth to the adage that goes: A fool and his money will soon be parted. Let us not be fools in this time of extreme difficulty.