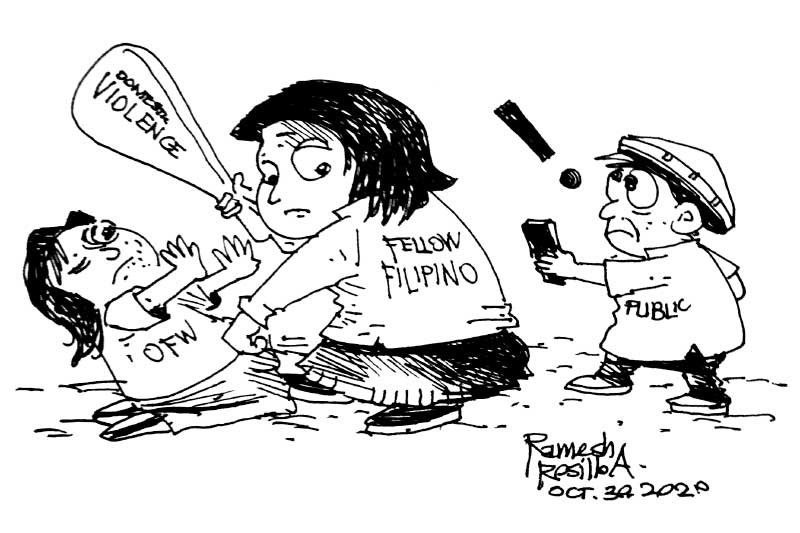 EDITORIAL - Sending the wrong message
(The Freeman) - October 30, 2020 - 12:00am
A video now going viral in the internet shows a Philippine envoy to Brazil allegedly maltreating her worker, who also happens to be a Filipina.
In the video, the woman, identified as Philippine ambassador to Brazil Marichu Mauro, is shown punching, slapping, and even hitting the worker with an umbrella on several occasions inside their diplomatic residence in Brazil.
The news first broke out in Brazil before getting the attention of authorities here.
Mauro has yet to explain her side of the story. However, from what was seen in the video, her actions are pretty damning.
It seems ironic that in her profile on the embassy's webpage, Mauro is described as someone who works to make Filipinos under her jurisdiction "aware of their rights and privileges as foreign workers". In case she has forgotten, those rights and privileges include protection against violence from their employers, no matter who those employers may happen to be.
For years we have been plagued by reports about foreign employers maltreating Overseas Filipino Workers. There seems to be no shortage to the kinds of abuse these OFWs experience, whether physical, financial, emotional, and even sexual. Every year there is always at least one case of an OFW making the headlines after a harsh beating by his or her employer.
Already beset by many other issues, the Philippine government has at least started to work for the improvement of the conditions of OFWs, going as far as to threaten to halt the deployment of workers to certain countries and to make employers sign agreements that they can no longer maltreat their Filipino workers.
Now along comes Mauro with her actions. Actions that send the wrong message that it is actually just fine for employers in other countries to maltreat their Filipino workers since we ourselves do it.
If proven liable for her actions, let's hope Mauro is dealt what she deserves. Because her actions may inspire a wave of violence against OFWs from local employers who may get the wrong impression that because some Filipinos are okay with maltreating their own, then it is also okay for them to do so.