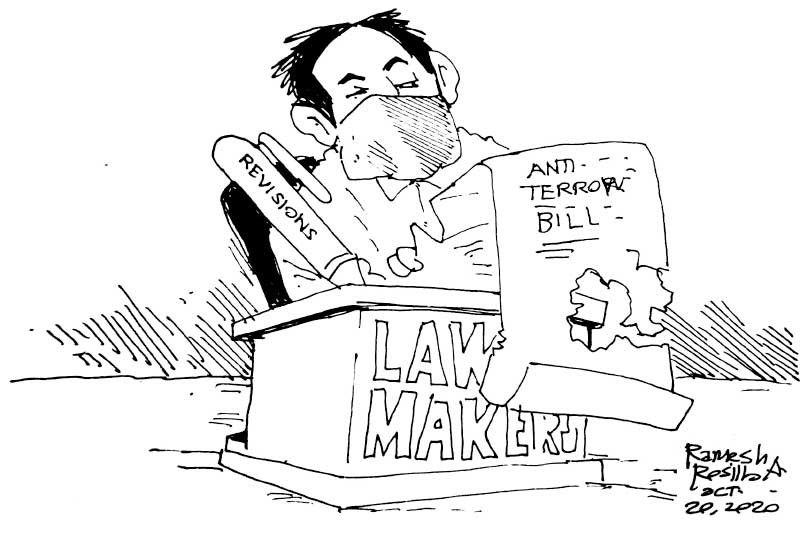 EDITORIAL - A dangerous law
(The Freeman) - October 20, 2020 - 12:00am
Even before the court could resolve the 37 petitions still pending against the Anti-Terror Law, the Implementing Rules and Regulations for the controversial law were approved several days ago.
Because an IRR of any law explains how it can be applied and what everyone should do to follow it, it's as good as being fully implemented.
Now more voices are being raised against the law, while those who have been against it from the start are making even more noise.
Aside from the usual points they have about how the law defines terrorists and terroristic activities, some lawyers' groups are also against the publication of a so-called list of terrorists by the Anti-Terrorism Council (ATC).
According to the ATC, under the Anti-Terror Law they have the right to designate anyone as a terrorist and to publish their names in a list in a national broadsheet or online.
Those in the list, whether organizations, groups, or individuals, have 15 days from the date of publication to apply for delisting. Essentially, that means they have to convince the ATC they are not terrorists, after which they will be removed from the list.
See what's wrong there? First, it's the council that will decide who can be labeled a terrorist. As if it's that easy and simple. We all know how some authorities like to label activists or critics of the government as enemies of the state.
Second, putting anyone in such a list is also tantamount to saying they are already guilty of something. And that goes against what our judicial system teaches everyone, that people are always assumed to be innocent until proven guilty.
We also know about the stigma that attaches itself to someone who is branded a terrorist or a subversive, whether rightly or wrongly. It can bring reprisals, harassment, and even acts of terrorism itself from the police, vigilantes, or just about anyone with a misguided sense of justice.
The rich, powerful, and well-connected have nothing to fear against this. They can easily rally people, attention, and even public opinion to their side. But those on the lower rungs of society do not have the same assurances they do.
Again, we recognize that the purpose behind such a law is noble. In fact, we encourage stronger legislation against terrorists. Terrorism is the scourge of this age. It doesn't have a face so you can never really know who will be behind the next attack. It can strike anywhere and anytime without any warning. Then it uses any reason to justify the misery it causes.
But again, we should also point out that this particular anti-terror law is so vague in many areas like how they define who can be called terrorists and what can be considered as terroristic activity. The definitions are so broad and sweeping that they are open to so many interpretations. And that's what makes it so dangerous.