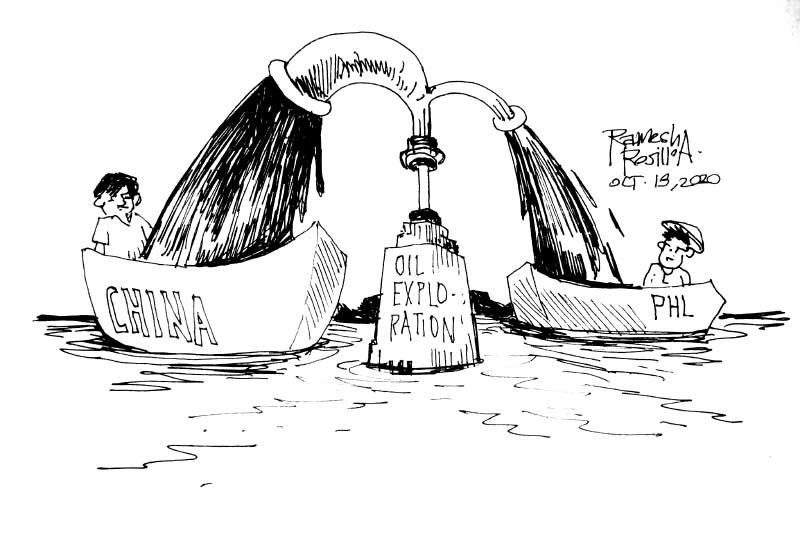 EDITORIAL - Joint exploration in our backyard
(The Freeman) - October 18, 2020 - 12:00am
As far as the Philippines is concerned, the resumption of oil exploration in the West Philippine Sea can resume. This after President Rodrigo Duterte approved lifting of the moratorium on oil and gas exploration in that area upon the recommendation of the Department of Energy.
"With the impending depletion of our natural gas reserve in Malampaya, it is the department's position that there is an urgent imperative to resume exploration, development, and production activities within our EEZ to ensure continuity of supply of indigenous resources in the country," Energy Secretary Alfonso Cusi said in a statement last week.
Just days after this announcement, China said it has come to an agreement with the Philippines for the joint exploration of oil and gas resources in the area.
Make no mistake; this is a good development for us. Oil and gas resources have a way of making a country very rich, or at the very least no longer dependent on such imports.
However, there is reason for us to be careful with our intended partner. A healthy dose of skepticism as well as caution is always advised when it comes to dealings with China.
There is always the possibility that China will try to take everything found for itself. Or if not, gain the most from such an endeavor.
China just happens to be one of the biggest oil consumers in the world, next only to the United States and the European Union as a whole, based on data from last year, at 14,056,000 barrels of oil daily. Ours was just 458,000.
China needs oil for its numerous industries. It has gone as far as to lure in oil-rich African countries in their debt trap just to satisfy their thirst.
We need to be sure we have the rights to any oil or gas deposits that may be uncovered in that area. We should not forget that China considers virtually the entire ocean between us and them as their backyard. They don't even recognize our Exclusive Economic Zone or the West Philippine Sea.
While our announcement said the explorations will be in the West Philippine Sea, the Chinese announcement said we have agreed to explore for oil in the South China Sea. That alone should be telling.
Yes, the truth remains that we may not have the expertise or the resources to conduct such a survey and we need a partner for this. All we are saying is we have to be sure any deal we get into with China will not be to our disadvantage.
Of course, we may be jumping the gun here. We aren't yet sure if there is oil or gas there. And if there is, if it is of such quantity or of such quality as to be commercially viable.
The exploration may yield nothing. However, any oil or gas deposits found in the West Philippine Sea should be harnessed to benefit us in the long run more than China, simply because it comes from our territory.