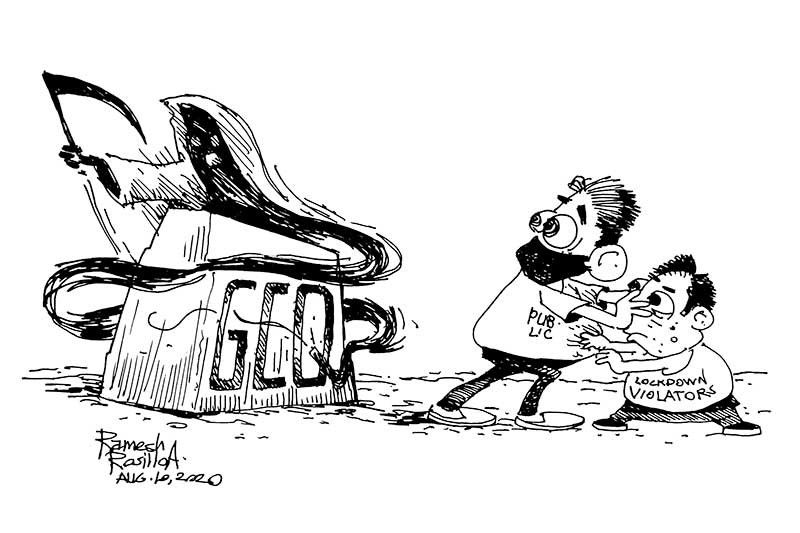 EDITORIAL - This GCQ is a crucial time for us
(The Freeman) - August 10, 2020 - 12:00am
Last Friday, August 7, 2020, Cebu City saw its highest number of COVID-19 deaths in a single day; 40 fatalities.
This also brings the city's death toll to now almost 600 directly due to or related to COVID, if we count the figures since April 30.
Forty deaths in a single day due to COVID-19 is 40 deaths too many.
This should at least remind us that even as we are now under General Community Quarantine, the threat of getting infected with COVID-19 and even dying as a result of it, is still very much a possibility.
We don't like to sound like spreading gloom and doom, but that's just the unbridled, unabridged, and grim truth about our situation.
Cebu City was put on GCQ more for the consideration that we needed to jump start our economy and get some businesses opening again, and not really because the COVID situation has become manageable.
At the risk of sounding like a broken record, we would also like to repeat what steps should be taken during the GCQ, and they really aren't that different from when we were under Enhanced Community Quarantine; wear your face mask when out in public, keep a safe physical distance from others, and don't leave your house unless you have to go out and get something you absolutely, positively need.
We do this again because even with repeated warnings and reminders, it seems some people have forgotten what can and cannot be done during GCQ. We only have to look at pictures in social media of how many people are still being arrested every day and taken to Plaza Independencia to know that people are still violating quarantine rules.
As if to emphasize this point, the city council recently approved the ordinance giving stiffer penalties to quarantine violators; a P1,500 fine and 30 days in jail for first-time offenders, a P3,000 fine and 30 days in jail for second-time offenders, and a P5,000 fine and similar jail time for third-time offenders.
Violators will also be disqualified from receiving the cash incentives or financial assistance from the city, or other monetary and financial benefits for two years from imposition of that penalty.
This GCQ is a crucial time for us. It is what the citizens do during this period that can mean the difference between the total lifting of any quarantine restrictions, or at least the further loosening of restrictions, or our going back to ECQ.