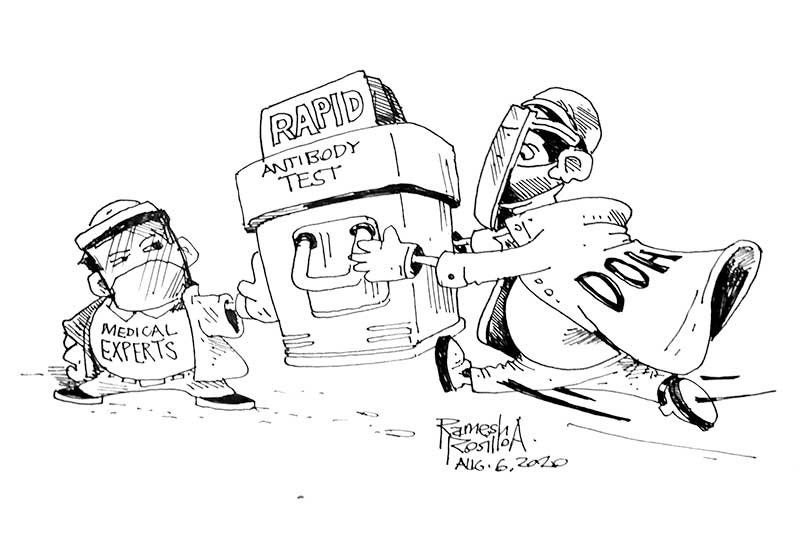 EDITORIAL - The case against rapid antibody testing
(The Freeman) - August 6, 2020 - 12:00am
The latest news from health experts is that rapid antibody testing should not be used as a basis to test for COVID-19 infection.
According to Dr. Antonio Dans of the Philippine Society of General Internal Medicine, the rapid test can only determine whether or not a person has already produced antibodies against COVID-19, but not the actual virus itself.
"Dapat ihinto na iyang rapid antibody test na iyan. Sa buong mundo, tayo nalang ata ang gumagamit nyan...Hindi naman yung virus yung nakikita niya eh, nakikita niya yung antibody," he is quoted as saying by an online news website.
Dr. Aileen Espina of the Philippine Society of Public Health Physicians appears to have the same opinion.
"Using a test for a purpose na hindi naman iyon yung intention niya, (it) will create a false level of security," Espina is quoted in the same report.
Experts even said these rapid antibody tests may have contributed to the spread of COVID-19 after giving false assurance to those actually infected with the coronavirus. Those falsely informed they did not have the virus then went about their business, infecting others with COVID-19.
If it is as these experts say, that rapid antibody testing should not be used to test for COVID-19, then this issue must be settled quickly with the proper information and guidance coming from the government.
This is because many individuals as well as businesses and companies that have slowly started operating again only use rapid antibody testing to trace possible infected.
There are three methods currently being employed to test for COVID-19; polymerase chain reaction tests (PCR), antigen testing, and rapid antibody testing. Rapid antibody testing is the most common because of how cheaper it is compared to the two other methods and also because the results come out faster.
But if it is true that rapid antibody testing is not as reliable as it was believed to be, then action must be taken to stop using this method.
Another plan may be to somehow tailor its purpose to fit in the overall strategy of coronavirus detection and prevention. Unlikely as it sounds, who are we to say some genius can't figure out how to turn this loss into a win.