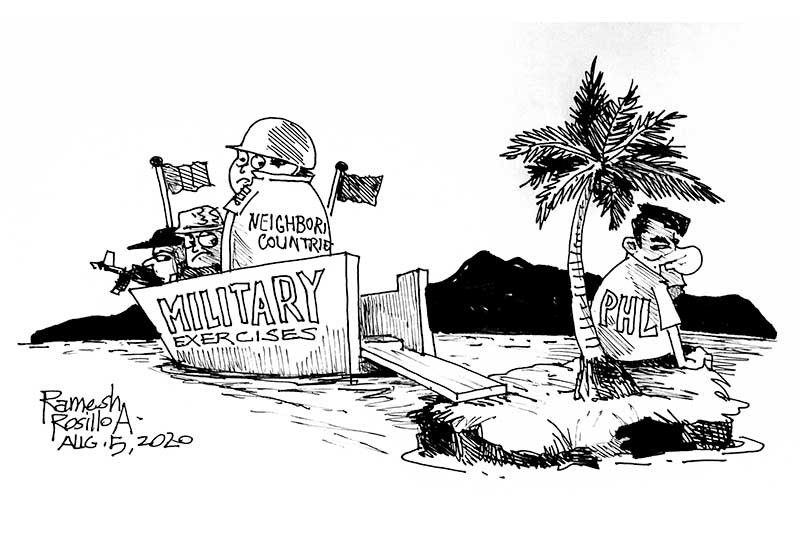 EDITORIAL - We need not go to war to assert our claims
(The Freeman) - August 5, 2020 - 12:00am
President Rodrigo Duterte has decided that the Philippines will no longer be participating in joint maritime exercises in the South China Sea with our neighboring countries.
Defense Secretary Delfin Lorenzana said this is to defuse the tension between the Philippines and China when it comes to territories we are in dispute over.
In further defending his position, President Duterte said asserting our rights over areas in dispute will inevitably lead to war with China. A war we cannot afford to fight in the first place, let alone win.
While warfare is still very much existent, because armies are still essential to the defense of any nation, waging armed conflict is no longer the principal way to settle disputes between countries. There are now international courts of law where an entire nation can plead its case against another.
It is also as retired Supreme Court senior associate justice Antonio Carpio stresses; we do not need to go to war to assert our claims.
"A country does not need to go to war to assert its sovereign rights. There are lawful and peaceful means of asserting sovereign rights," Carpio said.
To prove his point Carpio points out that Vietnam, Malaysia, and Indonesia are asserting their sovereign rights to their maritime zones against China's claims without going to war.
There have also been several instances of those country's coast guards firing water cannons and even ramming Chinese vessels that encroached upon their seas. Was there war declared even as these brutal yet non-lethal methods were employed? No.
However, we aren't saying that we should necessarily water cannon Chinese vessels and ram them. That would add even more tension to the situation. What we are saying is that even with those extreme actions taken by other nations China didn't bang the war drums. So it's probably safe to say China will not go that far, even with Xi Jinping's threatening words to President Duterte.
Again, we need not go to war to assert our claims. One way to keep our claim alive is to keep pressing our victory in Permanent Court of Arbitration in The Hague against China's so-called nine-dash line. To throw it away will be like agreeing not to use our strongest piece of evidence in a court case.
Of course, we understand the issue goes further than that. In the first place we are no position to compel China to follow the ruling, or even to carry out the ruling ourselves.
So the next best thing we can do is keep reminding ourselves, China, and the rest of the world, that certain areas are ours and China should not be there.