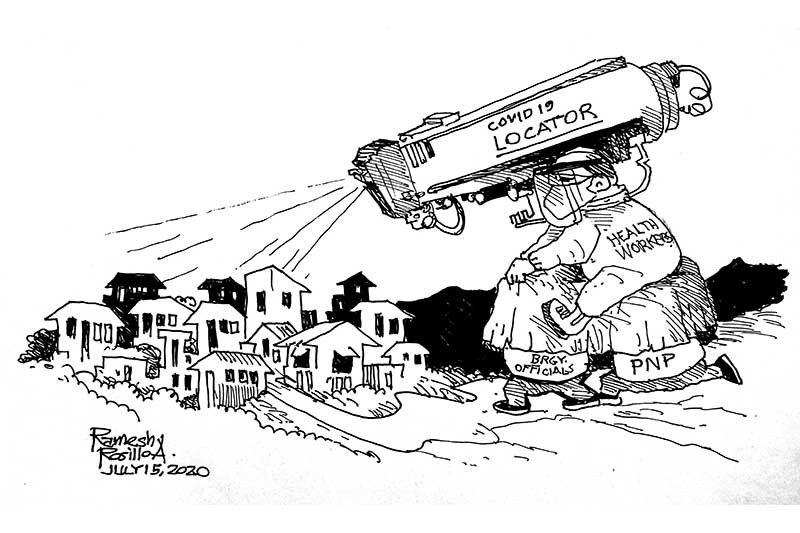 EDITORIAL - House-to-house search for COVID-19 patients
(The Freeman) - July 16, 2020 - 12:00am
As of yesterday afternoon many people were still not clear about the announcement that health workers will be going from house to house, looking for COVID-19 patients.
It was Department of the Interior and Local Government Secretary Eduardo Año who said Tuesday that local health officials will go from house to house searching for people with mild or no symptoms of the coronavirus and place them in government isolation facilities.
He added that the search will be done mainly by barangay workers and policemen will only be "assisting."
Año even encouraged people who know of neighbors with COVID-19 to rat them out.
"To our countrymen, if you know a neighbor who is COVID-19 positive and hiding, please report them to us. This is a law, RA 11332," Año is quoted as saying a Philstar.com report.
However, yesterday afternoon, presidential spokesman Harry Roque said there will be no house-to-house operation.
"We don't have a provision for house-to-house. Only the political critics of the government, again, weaponizing this very important task of tracing… (Patients) will have to be reported by the persons themselves, their family or the barangay," he is quoted in a follow-up report in the same website.
It is good Roque makes this clear. A house-to-house search of COVID-19 patients isn't only expensive and impractical; it also increases chances of incidents involving privacy and human rights violations.
Let's think of this scenario: What happens if barangay officials and policemen searching house to house doubt a household's claim that they have no COVID-19 patient? Are they justified to break in and take the suspected patient away?
Then there is what Año is encouraging. If people were made to report who among their neighbors have COVID-19, or at least who they think have it, you can expect there will be a lot of chaos.
Let's bring up another scenario: What happens if barangay officials and policemen searching house to house are told one particular person has COVID-19? Are they justified in going to that person's house taking him away? Or at least forcing him to submit to testing?
Suddenly there will be fingers pointing left and right without solid evidence. Some people can also easily use this to harass persons they don't like.
It won't be unlike the scenario in Germany after the Nazis took power where the regime actively encouraged people to spy on their neighbors and report those who were harboring anti-government sentiments. Chaos and confusion.
It doesn't matter who does the house-to-house search, such an operation will only lead to confusion and lots of possible abuses.