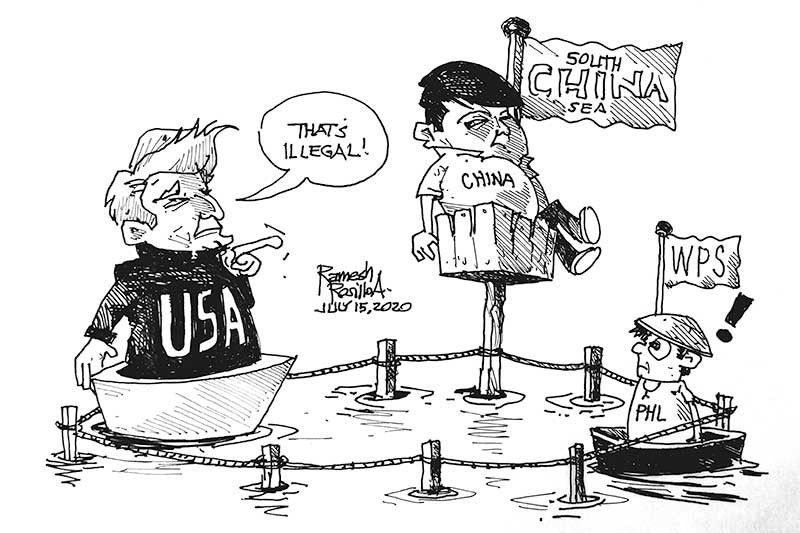 EDITORIAL - Why only now?
(The Freeman) - July 15, 2020 - 12:00am
Out of nowhere, the US suddenly decides to throw in its lot with the rest of Southeast Asia against China's majority claim of the waters of what is known on the map as the South China Sea.
"We are making clear: Beijing's claims to offshore resources across most of the South China Sea are completely unlawful, as is its campaign of bullying to control them," US Secretary of State Mike Pompeo said in a statement.
"The world will not allow Beijing to treat the South China Sea as its maritime empire," he added.
Don't get it wrong. We are definitely happy that it seems that ally we are hoping will help us assert our sovereignty over what is actually part of our territory is finally stirring.
However, the timing of this sudden, strong statement is highly suspicious. Why is the US only coming up with these statements now? Wouldn't it have been better if the US made this stand clear before China practically land-grabbed all those islands and put up all those installations to make them not just livable but also offer them defensive and offensive capabilities?
The US cannot claim it didn't know China was building military bases in the islands in the West Philippine Sea. Considering how sophisticated its data-gathering technology has become over the decades since the Cold War, the likely scenario is that they knew what the Chinese were intending to do long before anyone else did.
There are those who cannot help but speculate that the latest move, this show of bravado, serves as nothing more than to boost the sagging numbers of US President Donald Trump.
Considering how Trump has mismanaged the COVID-19 crisis in the US and his policies on racism, gender, immigration, and other sensitive issues, he needs all the help he can get to improve his chances against Joe Biden come November.
Let's also hope this statement by the US isn't just lip service and sabre rattling.