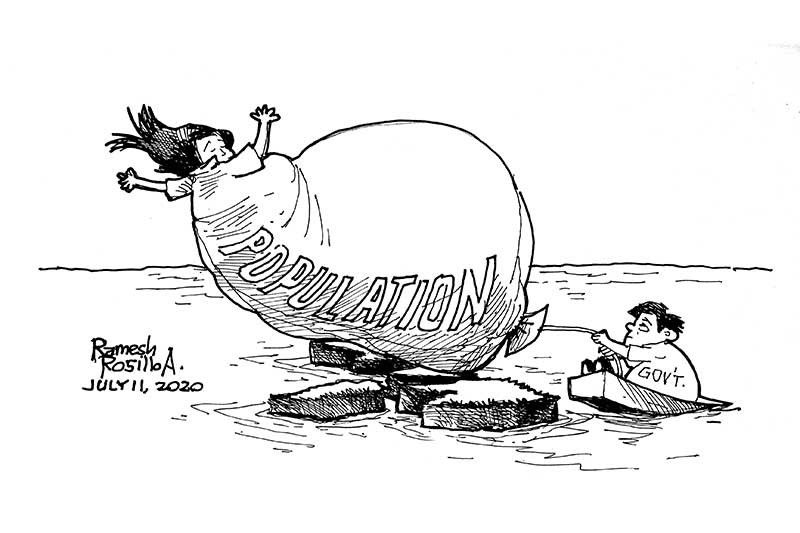 EDITORIAL - It's time to address our population problem
(The Freeman) - July 11, 2020 - 12:00am
In case you weren't keeping tabs on the calendar, today happens to be world population day. And in case you also weren't keeping tabs on our population, we are now an estimated 109 million Filipinos as of the last census.
According to the data from the United Nations, we make up 1.41% of the world's population and we are also the 13th country with the biggest population.
Although another study pointed out that our population growth has been on a steady decline since the 1960s, this doesn't change the fact that our population is no longer proportional to our infrastructure and it's high time for the government, the different sectors, and families themselves to do something to arrest the way we rapidly multiply.
The proof that we have a population that is just too big, and that it has been for a while, is all around us. Our roads and highways can barely keep up with the number of driving and riding public. Companies and employers cannot supply enough jobs so people have to go work abroad.
Every year we have to deal with an increasing student population that is always running out of classrooms, chairs, desks, and even teachers.
Some of our hospitals are starting to waitlist patients seeking admission. While this may also be the product of the pandemic, there should at least be some rooms available for non-COVID-19 cases. These days you will be hard-pressed to find one.
Need more proof? We are sure you heard of the recent problem involving Cebu City's cemeteries, or lack thereof. There is almost nowhere to bury the dead here. Sure, it can be seen as a problem arising from poor urban development planning, however it is also a sign of our burgeoning population.
It's also worth mentioning the sad fact that it is actually those who cannot afford to have many children who have many children.
A population that is too big can bring a nation down. If people cannot afford to feed, raise, and send their kids to school they turn to the government for help. And if people cannot find jobs they also turn to the government for support. This strains the government's resources and funds. And if you have a government that is already stretched to the limit when it comes to resources and funds, like ours already is, you can be sure disaster will follow.