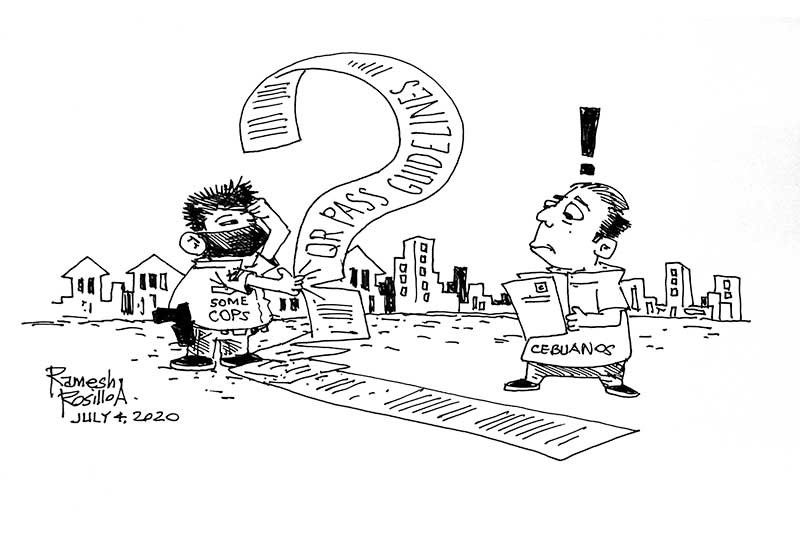 EDITORIAL - Someone tell them how it works
(The Freeman) - July 4, 2020 - 12:00am
Some recent incidents have brought to light that not all of the policemen or persons of authority who are tasked to enforce quarantine in Cebu City and make sure that those people on the streets are the ones who deserve to be there are familiar with how the new Quarantine Pass works.
Cases in point, as mentioned in a story in this paper; there was an elderly woman who was made to walk some distance after policemen said her Quarantine Pass was invalid because it did not have a seal from the barangay.
The Quarantine Pass doesn't need a seal from the barangay of the possessor in order to be valid; the presence of the glossy QR code sticker makes it a valid pass.
Then there was a reporter of this newspaper's sister publication who was arrested by policemen for not having a Quarantine Pass.
Members of the media are considered frontliners as well as authorized persons outside residence. She did not have to present a Quarantine Pass to go about her work as her media ID serves the same purpose.
Then there was the policeman who was not familiar with the odd-even scheme being enforced on vehicles allowed in the streets.
Those are only three incidents, only God knows how many unreported incidents there are. However, its people like these and their lack of knowledge about the new passes and how they work that add to the confusion regarding the passes.
And let's face it; there is already a lot of confusion regarding the new Quarantine Pass. Some people are confused as to whether or not passes can be shared. Others wonder if they can be folded as they don't want to be seen walking around wearing what looks like a huge placard in front of their bodies. Others are also wondering how they can get their pass in the first place.
It is also worth mentioning that not all of those who should receive the passes have received them or may receive them. And this only adds to the confusion. Who decides who gets issued the new passes? Is it selective or do all households get them?
It would help for these enforcers to get briefed on how the passes work and who doesn't need them to prevent situations like those mentioned above. The entire situation with the pandemic and quarantine is already muddled enough as it is.