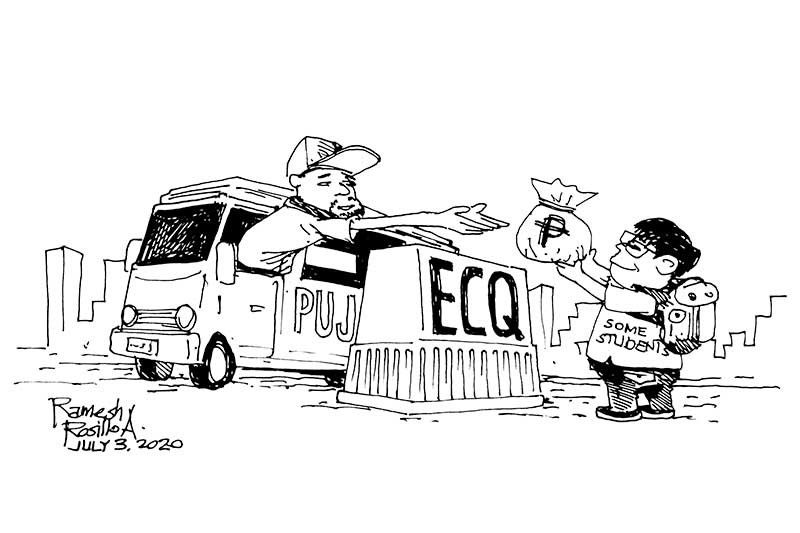 EDITORIAL - A laudable initiative that should be emulated
(The Freeman) - July 3, 2020 - 12:00am
Angels don't always have wings.
A group of students and alumni have taken it upon themselves to try and help one of the sectors hardest hit by the current COVID-19 pandemic, the drivers of Public Utility Jeepneys.
According to a report in this paper, student leaders and alumni of the Cebu Institute of Technology-University, the University of Cebu-Main and the University of San Jose-Recoletos, along with some non-government organizations, have launched what they call Project TsuperHero.
The aim of the project is to raise at least P100,000 to be used to buy necessary goods and supplies for drivers and their families.
There is no doubt that PUJ drivers are among those most badly affected by the pandemic. For most of them income is earned on a daily basis. That means missing one day is already enough to disrupt even the most carefully-planned budget of a family depending on this particular livelihood. Now imagine that it has been three months since these drivers earned money.
Add to that the possibility that even as some business may already be allowed to resume operations when we eventually switch to a less-restrictive General Community Quarantine, public transportation may still be prohibited.
We laud the students, alumni, and other non-government organizations for thinking of this Project TsuperHero and making it a reality. In a world that is so angry, so pessimistic, and so afraid for and of the future, it is nice to know that some people are still thinking about the welfare of others and how to help their less-fortunate brothers and sisters.
We need more people and more initiatives like these. Hopefully, this will inspire others to launch similar missions to help other sectors also being affected by the pandemic.
It is the unselfishness of certain men and women that can spell the difference between life and death for some of us.