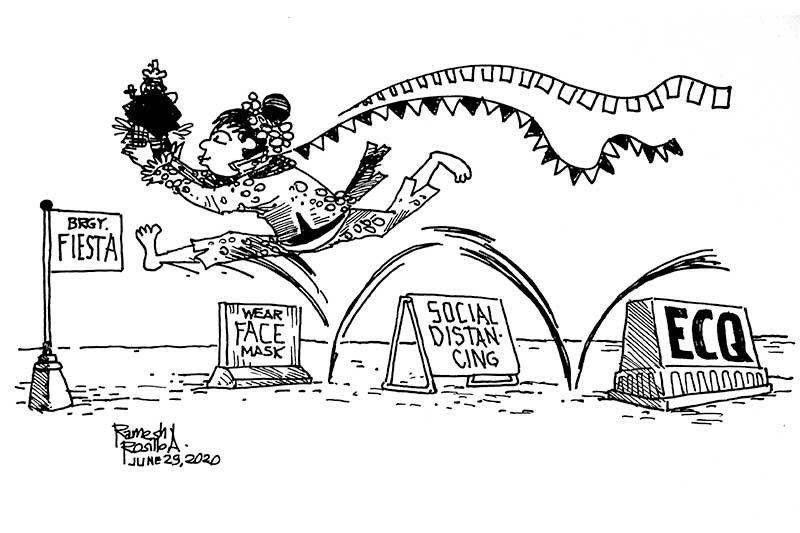 EDITORIAL - Hardheaded and stubborn
(The Freeman) - June 29, 2020 - 12:00am
Many people went up in arms, metaphorically speaking, after the president referred to Cebuanos as being hardheaded and stubborn.
They insisted that the rise of COVID-19 cases was due to weak local government leadership and that the national government was not formulating policies that were good enough for the situation.
However, an incident recently showed that there are some Cebuanos who just can't seem to get a hint of what is going on, don't understand how serious things are, or plain just don't care about the situation.
Of course, many people will likely have heard about this incident by now; the festivities, including a Sinulog dance, that were held recently in sitio Alumnos in Barangay Basak-San Nicolas in Cebu City.
Barangay officials have denied any involvement or knowledge of the event. As unlikely as this may seem, let's give them the benefit of the doubt pending further investigation. That also doesn't mean they are off the hook, considering their barangay is one of the most watched under the present conditions.
We understand that many people are sick of staying in their homes, of not being able to hang out with friends, of not being able to go where they want to. It's a weariness being felt all around the world, not just here in our country or our city. But they must understand that we are still under quarantine.
The way the virus is spread is human interaction. The more people in a certain location, the more chances for the virus to … wait, doesn't everybody know this by now? Including those who initiated, participated, and joined in the activity?
We are not saying those people who initiated, participated, and joined in the activity are stupid or misinformed. Most likely they already know how the virus is spread, considering how much information has been shared and spread by the government and how often.
However, they still decided to hold the activity anyway. So there.
Considering this latest incident, maybe we do deserve to be called hardheaded and stubborn…at least some of us, anyway.