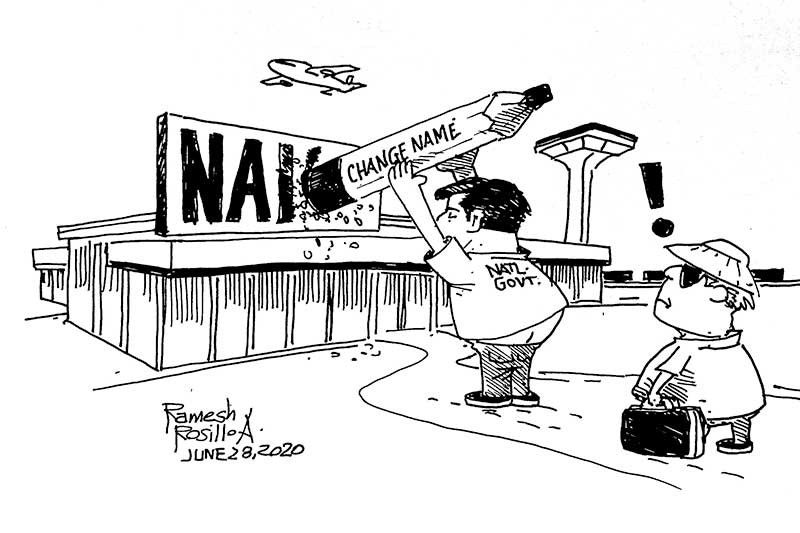 EDITORIAL - Leave the name alone
(The Freeman) - June 28, 2020 - 12:00am
What's in a name? Apparently some names can have "color" and "political agenda."
There is now a proposal from lawmakers Paolo Duterte of Davao City's First District, Lord Allan Velasco of Marinduque, and Eric Yap of ACT-CIS Party-list to rename the Ninoy Aquino International Airport (NAIA) to the Paliparang Pandaigdig ng Pilipinas, which has been shortened to PAPAPI by internet users.
According to the proponents the new name "bears no color, no political agenda."
"We need a more representative branding for the international gateway of our country, thus our proposal renaming NAIA to the Paliparang Pandaigdig ng Pilipinas. Aside from it bearing our country's name, it is in our national language," Paolo Duterte said.
"Changing the name of NAIA to Paliparang Pandaigdig ng Pilipinas gives every Filipino a great sense of pride and ownership of the country's biggest and largest international airport," Velasco said.
It's better to leave that name alone for now.
In the first place, the new name is a mouthful. Especially for those who do not speak Tagalog as a primary means of communication.
Foreigner visitors and tourists may not know who Ninoy Aquino is, but they will understand what the words "International Airport" mean. However, "Paliparang Pandaigdig" will take some explaining to them. It may even be safe to say they won't be able to pronounce it correctly.
In the second place, what sense of pride are they talking about? What these three lawmakers forget is that majority of the country does not speak Tagalog regularly. So their reasoning that rebranding the international gateway with a name that has Tagalog words in it doesn't really hold any appeal to the non-Tagalog speaking.
In the third place, the timing of this bill leaves a lot to be desired. In case these lawmakers didn't notice, there is a pandemic going on and there are probably a million more urgent things for lawmakers to discuss other than renaming an airport.
It is also worth mentioning that there are those who cannot help but see the proposal as a political move by the Duterte camp against their political rivals, the so-called Yellow camp, to bring down the Aquino name.
What will happen is that lawmakers allied to either camp will want their say, and in the end this may distract them from more important discussions.
Lawmakers should focus on more important issues for now, and leave the name alone.