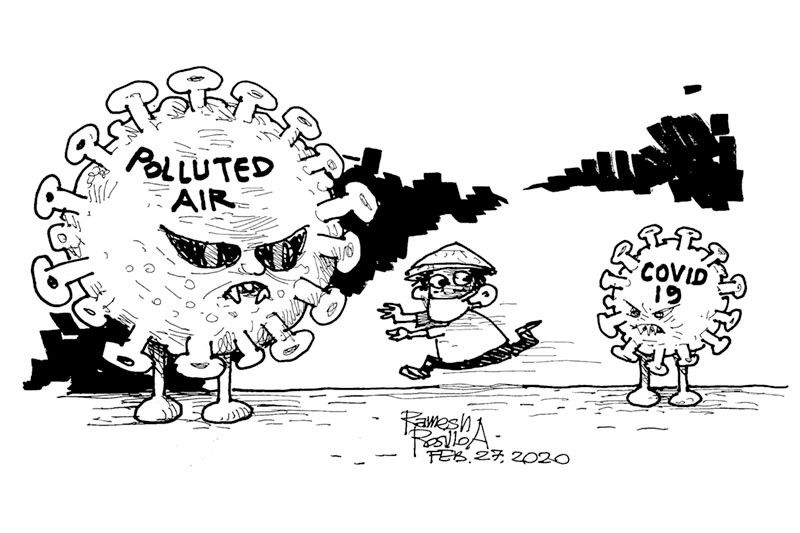 EDITORIAL - The hazard that we breathe every day
(The Freeman) - February 27, 2020 - 12:00am
We are so fixated on the COVID-19 threat we tend to ignore a menace that is closer to us. In fact it is all around us every day.
This is the polluted air we breathe.
According to a report in Philstar.com, a study by IQAir Group and Greenpeace revealed that for 2019, the Philippines registered an annual mean at 17.6 micrograms per cubic meter of air, higher than the safety limit set by the World Health Organization at 10 micrograms per cubic meter.
In 2018, the Philippines posted 14.6 micrograms per cubic meter.
While we are not yet at the level of micro-pollution like Bangladesh, Pakistan, and India, sources say these numbers tell us that our air can already be considered as highly polluted.
Of course, this study doesn't speak for all parts of the country, just the major urban areas. However, the threat remains as a huge part of the Philippine population live and work in these urban areas.
This is another example of us reaping what we sow. For decades we have practically ignored regulations providing for clean air or just didn't care enough to follow them.
Air pollution is caused by many factors. For one, there are the factories. Many of them have escaped government scrutiny or paid them off to be ignored. Another prime suspect? Vehicle engines. Particularly those in our ageing fleets of public utility jeepneys whose owners and operators continue to resist calls for replacement.
Of course, any motor vehicle with an old or poorly-maintained engine can also be blamed. So that means private cars, buses, motorcycles -- anything with a harmful engine.
Do we even have to mention the practice of slash-and-burn farming and burning our trash? Yes, those also contribute.
This report should remind us that while there are threats to our health just lurking out there, there are also those closer to home and are in fact the result of our own doing and foolishness.
There is a silver lining in all this. One good thing about air pollution is that it's a threat we are in more control of to address. Unlike the COVID-19 which can come from practically anywhere and anyone, we know where air pollution is coming from and we can do something about it.